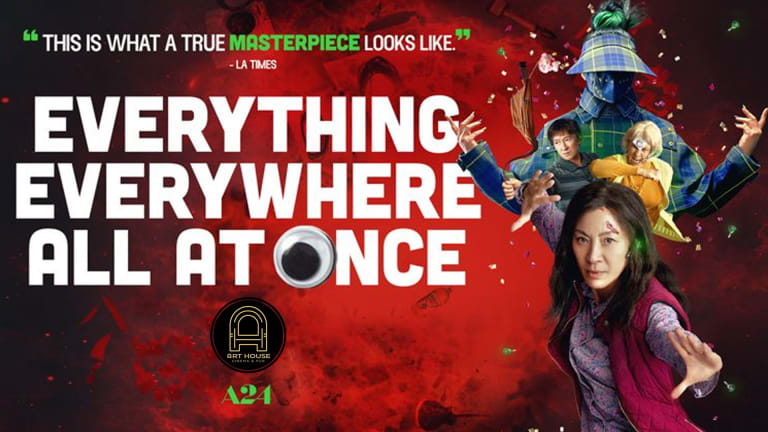 EVERYTHING EVERYWHERE ALL AT ONCE Review
There's probably a universe where I like this movie but we're for sure not living in it.
There I was, a guy excited to go to the movies, viewing myself as a sophisticated consumer of movies with discerning taste. I scoffed, yes scoffed, at the rubes lining up to watch the latest generic blockbuster superhero entertainment product as I entered the theater screening the A24 arthouse action science fiction movie Everything, Everywhere, All at Once.
After two long hours and 20 long minutes, the movie ends and the end titles were on screen. Produced by Joe and Anthony Russo, it read. The Russo brothers. Veteran Marvel content-makers. The directors behind the Avengers movies and so forth.
I had been fooled into a Marvel movie. Yes, there were no superheroes in the movie but it was a Marvel movie nevertheless: a cheap, fast, anxious story that applauds itself for taking chances while hedging all its bets. 
Everything, Everywhere, All at Once stars two screen legends, Michelle Yeoh and Jamie Lee Curtis. Together for the first time, the stars of Halloween and Supercop! A Fish Called Wanda and Crouching Tiger, Hidden Dragon. They both deserved better than this. 
Purportedly, Everything, Everywhere, All at Once is a movie about multiverses, love and generational conflict among an immigrant family. But it's not really about anything more than showcasing some clever but inconsequential ideas. 
It was directed by two guys named Daniel who call themselves the Daniels. They also directed the video for "Turn Down for What." Pretty good song!