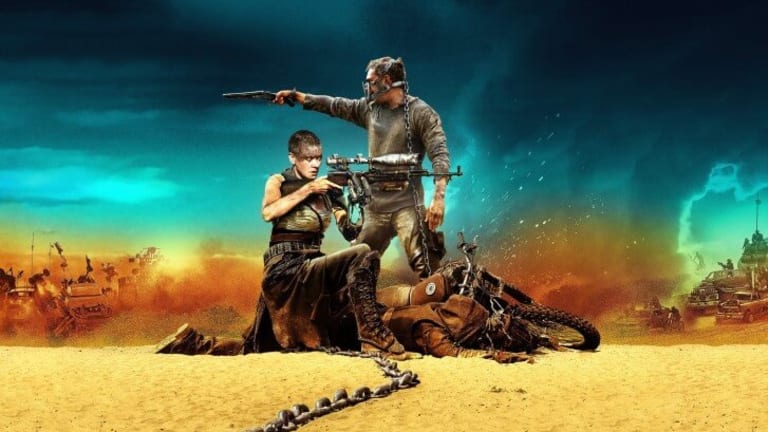 FURY ROAD with Jeff Koyen
Witness me! I live, I die, I live again, historic on the Fury Road
This week, Jeff Koyen joins me to dissect George Miller's 2015 apocalyptic action Mad Max: Fury Road, the fourth film in the Mad Max film series, following Mad Max, Mad Max 2: The Road Warrior (often simply called The Road Warrior)and Mad Max: Beyond Thunderdome. Unlike its predecessors, Fury Road was made in a modern, computerized film production landscape. The three original films were scruffy independent productions made in the '70s and '80s featuring visceral actions with real people doing incredible—and seemingly real—stunts. The decades-later sequel Fury Road miraculously retains the scruffy and kinetic feel and spirit of the original films while taking full advantage of the tools and possibilities of modern movie-making, overlaying a bold sense of color, speed and scale. 
Fury Road was a singular masterpiece of pure cinema. However, it fizzled at the box office, coming in second to Pitch Perfect 2 on its opening weekend. While Fury Road was embraced by an enthusiastic cult of fans, its impact on filmmaking was sadly negligible. It showed the grand possibilities of CGI filmmaking and the general public said "no thanks" and bought a gazillion tickets for gray Marvel movie sludge instead.
Mad Max super-fan Jeff Koyen joins me to celebrate Fury Road. Jeff is a brilliant editor and journalist whose career spans the legendary '90s 'zine Crank, the iconoclastic alt-weekly New York Press (where he was my boss), the NFT artwork site the Boggz Project and numerous other publications and projects. 
It's a great conversation and I don't want to give too much away. But the scene from the original Mad Max with the rumored stunt death is here (don't worry–the guy didn't die; he was just walloped by a motorcycle tire real good). Also, someday I'm going to do a full-throated defense of Beyond Thunderdome, a film I like quite a bit, but I don't get into it here.