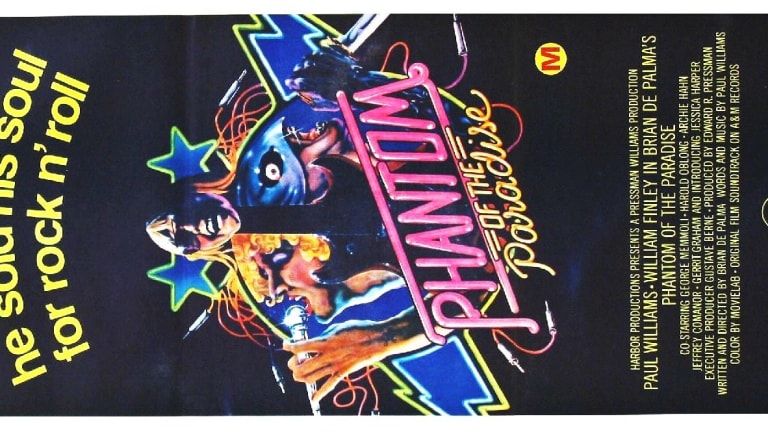 PHANTOM OF THE PARADISE with Jim Knipfel
Jim Knipfel returns to CDC to explore his favorite De Palma movie, the horror comedy musical satire Phantom of the Paradise.
Guys, this episode is huge. A milestone in several ways.
Jim Knipfel returns! This episode is the Slackjaw author's fourth appearance on CDC, Check him out on C.H.U.D., Godzilla vs. Kong and They Live in the show's archives. 
Phantom of the Paradise is the first-ever Brian De Palma movie discussed on CDC, It's wild it took so long to get around to doing a De Palma movie because he's one of my famous filmmakers. I'd love to talk to a transgender person about Dressed to Kill if any trans listener wants to volunteer or suggest somebody
The sound is not great! Sorry. It was hard to connect with Jim in any modern, easy-to-record way so I just called him and recorded the call. Jim's on a landline and sounds nice. I sound like pancake mix shaking in a box. 
So it's a terrific episode, despite some less than perfect audio. A good vibe about a weird movie with lots of fun tangents and quirky background information. Jim's an American treasure. I probably talk too much. Maybe it's OK. I had a lot of dumb opinions I needed to air.  Join Jim's Patreon here for a wealth of material from one of the best writers in the world.  . 
Watch Paul Williams perform "For the Hell of it" from the Phantom of the Paradise soundtrack on the Brady Bunch Variety Hour here
The goofy trailer from Suspiria that we talk about is here.
And here's Paul Williams giving Daft Punk's Grammy acceptance speech. This is "Touch," the song Paul Williams sings with Daft Punk. It's a couple of weird vibes strung together (spooky 60s synths, aching vulnerability, schmaltzy 70s Vegas review piano and horns with a tinge of New Orleans style and pure Daft Punk cosmic vocoder. Not for everybody but I love it.
Paul Williams wrote the soft rock '70s hit "We've only Just Begun. Here's the Carpenters doing it and here's jazz great Grant Green doing a nice mellow jazz guitar instrumental version.