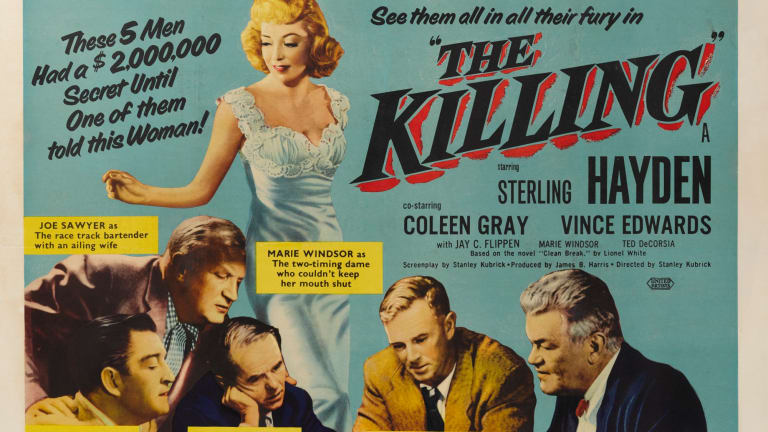 THE KILLING With Jim Knipfel and Alexander Zaitchik
Just a bad joke without a punch line.
Jim Knipfel and Alexander Zaitchik return to CDC to discuss The Killing. 
The 1956 noir film was director Stanley Kubrick's third feature-length movie. Kubrick called it his first mature movie and its precise camera work, framing, lighting and acting direction set the stage for his later untouchable three decade run of film masterpieces, from Spartacus to 2001: A Space Odyssey, to Doctor Strangelove, Clockwork Orange, The Shining and Full Metal Jacket.
As I mention in the pod, I haven't seen Barry Lyndon, so I didn't feel right putting it on the list above. Also, shame on me, I guess. On another note, here's a question for CDC listeners: Lolita. Is that one any good? I've seen it but don't remember it. It seems like a mid-range and perhaps a rightly forgotten placeholder movie separating Spartacus from Strangelove.
I'm rambling. Sorry. This is a great episode. Jim Knipfel and Alexander Zaitchik return. They are both great. I say some dumb bullshit but hopefully don't ruin it. Jim talks about the book The Killing was based on and what he reveals may just shock you!
This is a terrible intro. I hear you out there, wanting to slap me around, saying "come on clown, sing us a chorus from Pagliacci!" I know you're not really thinking that. It's dialogue Jim Thompson wrote for The Killing. I didn't even know Pagliacci had choruses. Maybe it was a musical? I don't know. I guess I could have done this whole intro in Jim Thompson-style hardboiled language. Glad I didn't. That would've been insufferable. Like a bad joke with no punchline. LOL.
Despite this crummy intro written under duress by a man with nothing to say, the episode is a really good long form conversation about The Killing, Kubrick, Jim Thompson and other cool stuff. Sorry, I'm just out of gas but wanted to get the podcast up. In all sincerity, I seriously considered hiring someone on Task Rabbit to write this intro but I thought it would take too long. Outsourcing is a good idea, though. Maybe it would be better to have somebody else host the podcast. They'd probably be better at it anyway.
Subscribe to Jim's Patreon. It's terrific. Alex's books are also terrific and are on sale at an amazon.com near you.
The Sterling Hayden documentary is called Pharoahs of Chaos for some reason.
And the Jim Thompson book about kidnapping that's on the tip of my tongue at the start of the episode is "After Dark, My Sweet." How could I forget that title, of all titles!