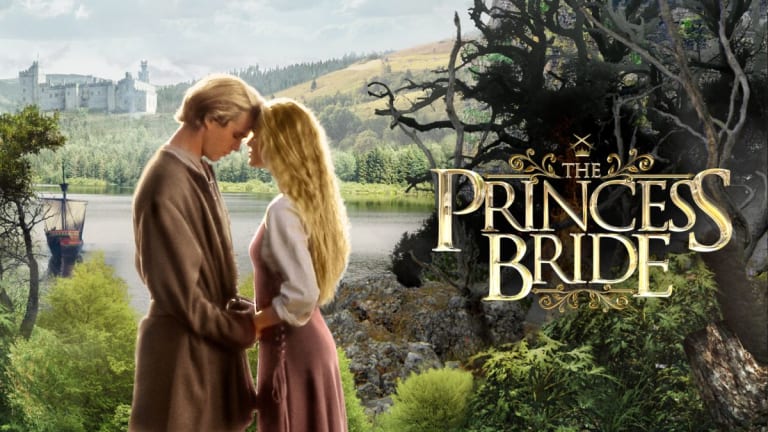 THE PRINCESS BRIDE with James Griffith
A two-hour conversation about a 1987 comedy fantasy film? Inconceivable.
Once upon a time, I watched "The Princess Bride" with my daughter. She liked it but wanted more of the romance stuff in the beginning.
Then my Princess Bride journey began.
I read the movie's source material, William Goldman's playful, meta-textual novel, where the central concept is that it's an abridged version of a previously published work of satirical European history with all the satire and history cut out and the "good parts," i.e., the story about Princess Buttercup and Wesley, all that remains. The movie retains some of the meta-textual jazz and I thought maybe the playfulness and meta-textual-ness is unneeded, considering the jewel of the story at the heart of the book. Goldman had a clean little story with memorable characters, quotable lines and plenty of interesting stuff. Maybe he was a little scared to tell it? 
James and I have been talking about doing a swashbuckling/Errol Flynn CDC episode for a while. So we talk about "Captain Blood" and "The Sea Hawk." Captain Blood is streaming on HBO Max and both are streaming elsewhere. You can find them if you google their titles and the words "streaming" and "free." "The Princess Bride," meanwhile, is on Disney Plus.
Show notes:

When I argue that Rob Reiner is a great American filmmaker despite his dumb face, I neglected to mention "Stand by Me."
The book I couldn't think of is "The Life and Opinions of Tristram Shandy, Gentleman," by Laurence Sterne. I'm worried I might have mangled my description of Nabokov's "Pale Fire." Alas.
I 100 percent stand by my endorsement of The War Nerd Iliad. Buy it here! Today!
James was right, Goldman did write the screenplay for "All the Presidents Men."
But, as James informed me after I posted the episode, he erred elsewhere. Jean-François Lyotard wrote "The Postmodern Condition," not Jean Baudrillard.  
I misrepresent the villainy of the Spanish in "Captain Blood." They're the bad guys and the closing battle shows Blood and his men heroically protecting an English colony from Spaniards. The portrayal of the English changes between the two films, though. In "Captain Blood" they're the bad guys up until the last scene, when Flynn cheers "good King William" but the English are the good guys from the start in "The Sea Hawk."
Also, I regret not mentioning my observation that Wallace Shawn stars in the biggest "Andre" movie (My Dinner With Andre) and stars with the biggest Andre ever in a movie (Andre the Giant).