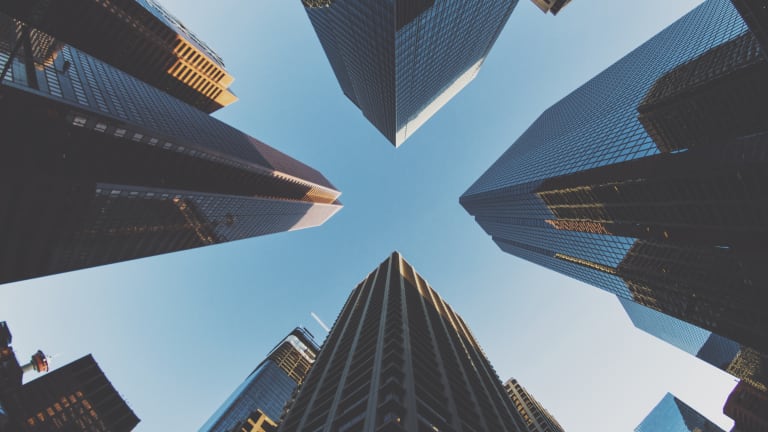 Grayscale Forecasts $5b Revenue For DeFi In New Report
The DeFi userbase has grown 6x compared to the same time last year, according to the report
Grayscale published new research on decentralized finance (DeFi) charting its growth and looking at the market conditions that have primed protocols to hit $5 billion of revenue in semi-annual annualized returns.
The report, written by Grayscale head of research David Grider and research analyst Matt Maximo, shows DeFi's market cap still makes up a very small portion of the larger financial services sector. 
At $90 billion, DeFi's market cap is the equivalent of 2.6% of the $4.2 trillion S&P 500 Financial Services Sector. It's still early days for decentralized financial services, but Grayscale seems optimistic that the market conditions are right for growth to speed up.
The report notes that DeFi users have grown by 6x since the same time last year, going from 560,000 to 3.45 million. That growth means that DeFi as a segment is getting big enough to start rivaling the userbase of traditional financial services, like Goldman Sach's Marcus and UK-based online bank Monzo.
Another reason Grayscale's so optimistic: The state of the traditional banking industry.
"Banks have been notoriously anti-competitive and reluctant to allow customers to share their information or integrate with other financial services providers, with the aim of maintaining market share in a mature industry. However, what's best for banks has not always been best for consumers," Grider writes. 
He goes on to say consumer dissatisfaction with the way they've been siloed in traditional finance have made DeFi's permissionless, transparent and interoperable protocols especially appealing.
It's worth noting that Grayscale has been putting its money where its research is. 
The firm launched its Grayscale DeFi Fund in mid-July. The fund, which charges a 2.5% annual feel, has $12.5 assets under management and has seen a return of 33.4% since its inception. The fund tracks the Coindesk DeFi Index.
"We've noticed a trend towards investors seeking expanded exposure and greater diversification within their crypto portfolio. Investors are evaluating a broader set of digital assets for their portfolios and they are eager to get exposure to emerging parts of the crypto ecosystem," Grayscale CEO Michael Sonnenshein told TheStreet Crypto Investor in an email. "DeFi represents one such opportunity, as a new sub-set of assets within the broadly defined crypto space."