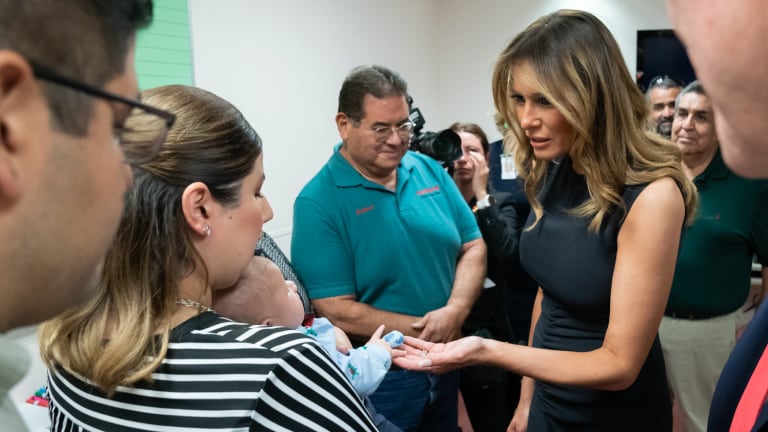 Melania Trump's NFT Auction Ends Poorly Due to Crypto Crash
The auction failed to reach an opening bid of $250,000.
Former U.S. First Lady Melania Trump has not done so well as a crypto entrepreneur and purveyor of non-fungible tokens (NFTs) after her auction ended with her only receiving around $170,000, or 30% less than her initial asking price, after cryptocurrency prices plummeted. The auction failed to reach an opening bid of $250,000 by the time sales closed on Wednesday evening.
During the two-week auction period, cryptocurrency prices nosedived dramatically, with Solana, Trump's chosen cryptocurrency, plummeting in value. Despite offering her NFT package with a starting bid of $250,000, she received $80,000 less than she had hoped for.
Trump was offering NFTs of a wide variety of memorabilia, including a white hat worn during a 2018 White House official state meeting with the French president Emmanuel Macron. Other options on offer were a "head of state package" featuring a watercolor of her wearing the hat, and an accompanying NFT.
"This is just evidence that none of the cryptocurrency assets provide a good, stable enough means of payment," Cornell University professor Dan Awrey, who studies money and payment systems, told the New York Times. "It is just too volatile."
Although Trump marketed the NFTs as a munificent gesture to help fund education for children in foster care, she has not disclosed how much she will hold on to or donate to children.
Hollywood celebrities like Justin Bieber, Lindsay Lohan and Snoop Dogg have also plunged into the NFT space, but the digital assets are still being tested, and questioned, as a stable path for creators and artists alike, particularly during periods of high volatility.
Earlier, Trump sold a limited edition set of NFTs from French artist Marc-Antoine Coulon for $150 apiece, including "Melania's Vision," a watercolor of Trump's eyes.