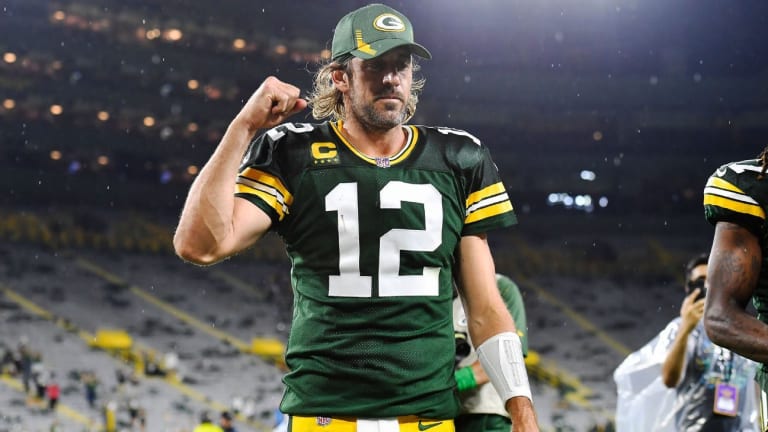 Aaron Rodgers: 'Bitcoin To The Moon'
The Green Bay Packers quarterback is also giving out $1 million in Bitcoin in a promotion with CashApp.
Aaron Rodgers, the quarterback for the Green Bay Packers, has announced that he will begin taking part of his NFL salary in Bitcoin. 
---
Learn how smart money is playing the crypto game. Subscribe to our premium newsletter - Crypto Investor.

---
The three-time most valuable player in the NFL also said that he is giving out $1 million in Bitcoin using CashApp to make Bitcoin more accessible to his fans.
The campaign will run from November 8 and winners are chosen at random. Those selected will receive $10 worth of Bitcoin. 
"Bitcoin to the moon. That's why I am pumped to share that I have recently teamed with CashApp. They have enabled me to take part of my NFL salary in Bitcoin for the first time," said Rodgers in a Twitter post while dressed as John Wick for Halloween. 
Several Twitter users in the comments shared screenshots of payments that they had already received from the star quarterback.
The news out of Rodgers stirred crypto fans on Twitter and even gained the attention of Bitcoin bulls like Michael Saylor, the founder and CEO of MicroStrategy which owns over 114,000 Bitcoin. 
"Welcome to the Team. The best inflation defense is a #Bitcoin offense," said Saylor. 
Rodgers is the next in a trend of high-profile NFL athletes being paid in cryptocurrency. Others include Tom Brady, Trevor Lawrence, Saquon Barkley and more.