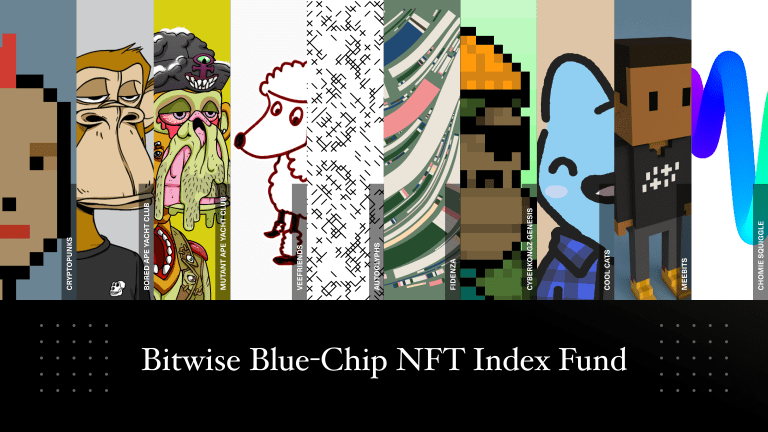 Bitwise Launches NFT Index Fund
It's the latest offering for the crypto asset manager.
Bitwise Asset Management has launched a new fund designed to give accredited investors exposures to NFTs without having to purchase the digital artwork outright.
The strategy behind Bitwise Blue-Chip NFT Index Fund started trading on Thursday, marking the eighth new investment vehicle this year for the crypto index provider specialist. 
The fund aims to track the performance of the Bitwise Blue-Chip NFT Collections Index, which is based on a basket of the 10 largest NFT collections in the world. The fund plans to purchase and hold in custody some of the world's most sought-after NFTs, including items from CryptoPunks, Bored Ape Yacht Club, Autoglyphs, Fidenza, VeeFriends and other artists. 
The fund, which is open to accredited investors, carries a relatively low minimum investment of $25,000 — a bid to allow wealthy individuals who might not jump through the hoops of acquiring and safekeeping their own NFTs a means to invest in the hot sector. 
The fund will permit monthly redemptions after an initial lockup period of six months.
NFT trading volumes spiked to more than $10 billion in the third quarter of this year, according to the firm, demonstrating the continued interest in the sector. 
The fund has an expense ratio of 3%, reflecting the management fee the firm takes and other underlying expenses, including custody. It does not impose a performance fee on its limited-partners. 
"Recently it's become clear that any conversation about crypto's potential must include NFTs, which are fundamentally changing how we think about not just owning art but property rights in general," said Bitwise CEO Hunter Horsley in a statement. "Being able to invest in some of the NFT movement's most defining collections as these evolve is an opportunity we wanted to make available to those who are as compelled by the space as we are."