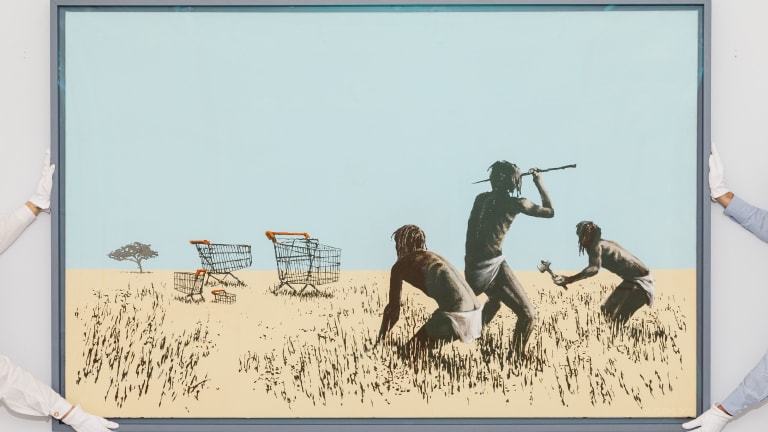 Sotheby's to hold crypto auction for Banksy's artwork
Bidding will be done using units of Ethereum as a standard.
Sotheby's has announced that an auction on Nov 18. for Banksy's Trolley Hunters artwork will use Ethereum as the standard currency for bidding. 
---
Learn how smart money is playing the crypto game. Subscribe to our premium newsletter - Crypto Investor.

---
The company says that the artwork from 2006 is "an indictment against the excesses of consumerist society." Sotheby's also notes the painting has strong relevance today given issues in light of the pandemic. 
"The painting has arguably never been as relevant as it is today, with the disruption to the global supply chain having exposed the fragility of our fast-paced consumerist eco-system."
Also up for bid on the 18th is one of Banksy's famous Love is in the Air works depicting a man with a bandana throwing a bouquet of flowers. 
Bidding for both works will be done in units of Ether, the Ethereum network's native currency. Winners of either item will have the option to pay in fiat currency or one of the three cryptocurrencies the auction house accepts: Bitcoin, Ethereum or USD Coin.
The presale estimate for the Trolley Hunters piece is between $5 million and $6 million while the Love is in the Air piece is estimated to go for between $4 million and $6 million. 
Back in May, Sotheby's auctioned off a different Love is in the Air piece that sold for $12.9 million. Sotheby's accepted both Bitcoin and Ethereum for that auction as well. 
The auction taking place on Nov 18. will be titled The Now and will be live-streamed throughout the globe on Sotheby's various social media channels. The two works can also be viewed virtually on Sotheby's Discord channel as well as on the company's website.