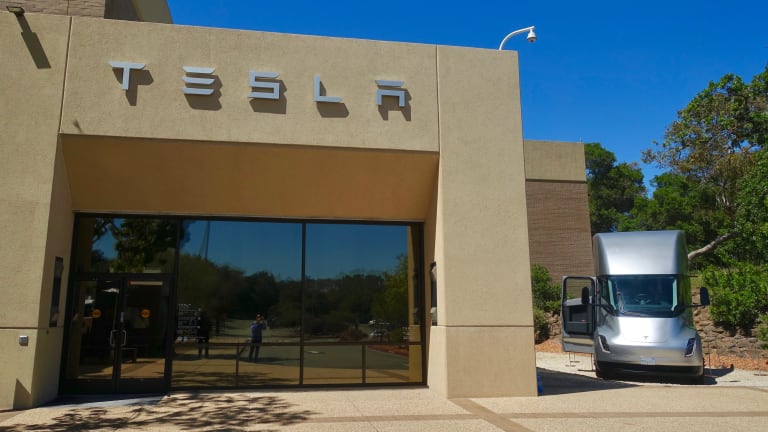 Tesla Accepts Merchandise Through Dogecoin, But Will Not Issue Refunds
It won't be possible to get a cash refund for any Tesla merch bought with DOGE.
On Friday, Tesla CEO and noted crypto influencer Elon Musk Tweeted that the electric vehicle company was now accepting Dogecoin payments for merchandise, causing prices for the memecoin to spike by 18.63 percent.
However, a closer look at the terms of usage revealed that any items purchased with Dogecoin "cannot be returned, exchanged or canceled." The company views Dogecoin purchases as final and non-refundable. 
Last month, the EV maker first announced its willingness to accept DOGE payment, causing Dogecoin's prices to be bumped up by 25%.
"Even though it was created as a silly joke, Dogecoin is better suited for transactions [than Bitcoin]," Musk said in December 2021, adding that its inflation trends promoted actual spending during transactions.
In the past, Musk has vocally supported Dogecoin and declared it his favorite cryptocurrency. Last May, Musk's other company SpaceX, approved Dogecoin for payment, and in late March 2023, SpaceX aims to launch the DOGE-1 satellite to the moon.
The SpaceX founder said he would "see how it goes" to sell Tesla merchandise via Dogecoin. It's not clear if the company will eventually permit payments for Tesla vehicles through Dogecoin.
The DOGE payment option isn't restricted to the U.S. either, with U.K. users now being able to buy merchandise like the S3XY Mug with Dogecoin. In some cases, Dogecoin is the only payment method available for some merchandise items, indicating the company's embrace of the memecoin is strong.
"Lots of people I talked to on the production lines at Tesla or building rockets at SpaceX own DOGE," Musk told CNBC previously. "They aren't financial experts or Silicon Valley technologists. That's why I decided to support DOGE, it felt like the people's crypto."
Compared to Bitcoin, Dogecoin is not nearly as energy-intensive, though it remains a proof-of-work crypto that could theoretically require a high level of energy consumption per transaction. In May 2021, Tesla suspended Bitcoin payments for Tesla vehicle purchases, citing the cryptocurrency's negative impact on the environment.