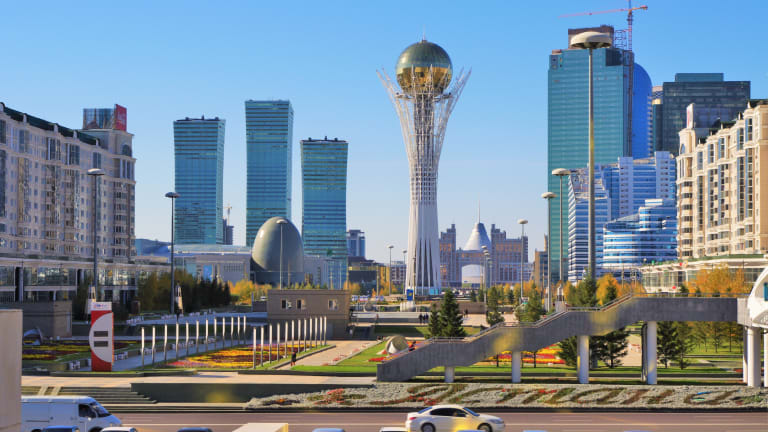 Amid Internet Blackouts and Unrest, Kazakhstan's Hashrate Plummets 13%
Impacted by news in Kazakhstan, Bitcoin's price plunged below $43,000 on Thursday morning.
Worsening unrest in the former Soviet republic of Kazakhstan has caused Bitcoin blockchain's hashrate to plummet by 13.4%. The country — the world's second-largest supplier of Bitcoin's hashrate — is home to 18% of the Bitcoin network's total hash activity, and internet blackouts as a result of political violence are severely hampering crypto mining activity.
---
Learn how smart money is playing the crypto game. Subscribe to our premium newsletter - Crypto Investor.

---
Since China banned crypto-mining, Kazakhstan has become the top country for Bitcoin's hashrate after the United States. According to the Cambridge Bitcoin Electricity Consumption Index, the country holds one-fifth of the world's global hashrate. However, when the country went dark due to internet shutdown this week, miners' access to the Bitcoin network was also severed, directly impacting Bitcoin's global computational power, or its hashrate. AntPool, Poolin and Binance Pool all displayed precipitous drops ranging from 12% to 16%.
On Thursday, violent clashes in Kazakhstan saw the deaths of dozens and government buildings set aflame, as protestors rallied against the skyrocketing cost of fuel and years of autocratic rule.
Home to 19 million people, Kazakhstan has a strained relationship with crypto miners, who are reportedly consuming up to 8% of the country's total power generation capacity — or 1.2 gigawatts — to mine crypto. 
Bitcoin mining revenues in the republic are expected to reach $1.5 billion in the next five years.
Last fall, Kazakhstan's vice minister of energy Murat Zhurebekov declared that government officials were also mulling new regulations to limit the energy consumption of crypto miners who did not register with the government, including by levying fresh taxes.
Impacted by news in Kazakhstan, Bitcoin plunged below $43,000 on Thursday morning, with traders absorbing $317 million in losses in crypto futures. According to crypto futures trading platform Coinglass, more than $812 million of these crypto futures were liquidated.