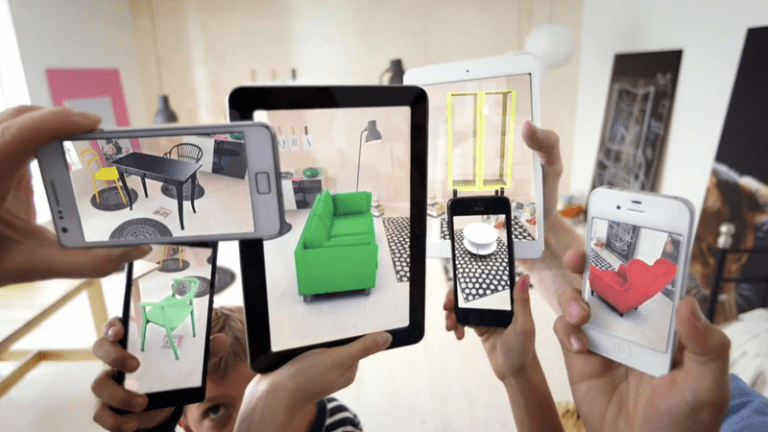 The Latest Trends and Applications of Augmented Reality Technology
Pinterest launched an AR feature to place virtually simulated furniture in homes, allowing users to try before they buy.
Meta is working with VNTANA to bring 3D AR enabled advertisements to Facebook and Instagram.
The AR market is expected to reach $322.6 billion USD in 2028 and see widespread application in the smartphone, mobile gaming, and education sectors.
As augmented reality has developed and improved over the years, the barriers to entry have lowered and made the technology more accessible for the masses. As a result, AR is finding new applications and uses more rapidly than ever.
Pinterest recently implemented an augmented reality feature which allows users to instantly trial furniture and other home products. Pinterest Newsroom's announcement states that users can "virtually place items from US retailers like Crate & Barrel, CB2, Walmart, West Elm, and Wayfair in their home using the Pinterest Lens camera, and try before they buy." Pinterest is frequently used to discover products and design inspiration, hinting that the new AR feature will lead to increased sales for the involved companies. Other shopping apps are expected to implement similar features in the near future.
Meta is working in conjunction with 3D eCommerce platform VNTANA to bring AR enabled advertisements to Facebook and Instagram. Users can explore 3-dimensional virtual models of various items, and even use an augmented reality filter to try out makeup products. The interactive ads increase consumer-brand engagement and create an enriched shopping experience.
The AR market will grow to reach $322.6 billion USD in 2028, according to analysis by Emergen Research. AR is expected to see large developments in the smartphone and mobile gaming fields, and be largely incorporated into the education sector.