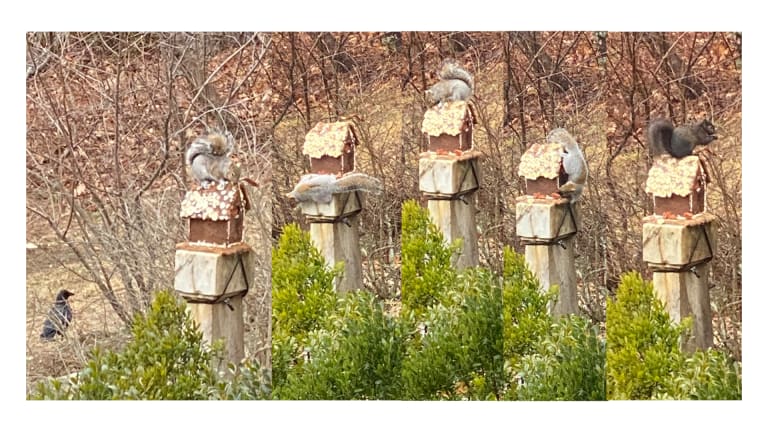 A METAVERSE OF ONE'S OWN: THE EVIDENCE
I offer the photo essay that follows as momentary distraction from politics and social media, as inspiration for how to be playful again; to lose, and to find oneself in the infinitely fascinating goings-on in nature.
A good friend has an annual ginger-bread decorating party, where a wonderful bunch of women get together to stick all manner of candies on miniature edible structures with the familiar shapes of cartoon-rendered homes. 
It's fun to be there and watch everyone decorate, but I never much cared for gingerbread houses since I think if I go to the trouble to bake something, somebody should eat it, which never seems to happen with these festive forms that sit around as part of the holiday decor. This year, I wanted to build something that served a purpose beyond my own amusement in making it, so I built a bird house for my Avian and Chordate neighbors. A room of one's own for the birds, as it were.
After spending more hours then I care to admit drawing and measuring pieces, making homemade gingerbread dough, cutting, drying, assembling and decorating it, I affixed the house to a marble pedestal in the yard using some old conference name tag lanyards Then I waited to see who would come by. Here's the story.
Props: a pound of butter, flour, eggs, molasses, brown sugar, lemon and orange zest, ginger, nutmeg, egg whites, confectioner's sugar, white raisins, pumpkin seeds, dried banana slices, peanuts, almonds and dried apricots; plus one rose window made with melted orange lifesavers and a cinnamon stick perch at the door.
Cast: grey squirrels (who are not all grey), black-capped chickadees, dark-eyed juncos, crows and a mystery actor who carried the bulk of the house away in the night once the others had nibbled it free from the straps. This mystery actor might have been a bear (who should have been hibernating), the fox family who lives nearby, raccoons, coyote or a team of squirrels, but I have never seen them cooperate.
Plot: January 1st, the house first appears on the pedestal in the yard. After several days of nervous observation, the actors show up and begin a bite-by-bite, crumb-by-crumb destruction of my creation in a very particular order: first peanuts, then raisins, pumpkin seeds, dried apricots, dried banana roof tiles. The squirrels chewed off all the decorations, then the dark-eyed juncos came in to nibble the cookie structure itself. The crows watched but seemed mildly aloof from the action. Crows seem to prefer pizza.