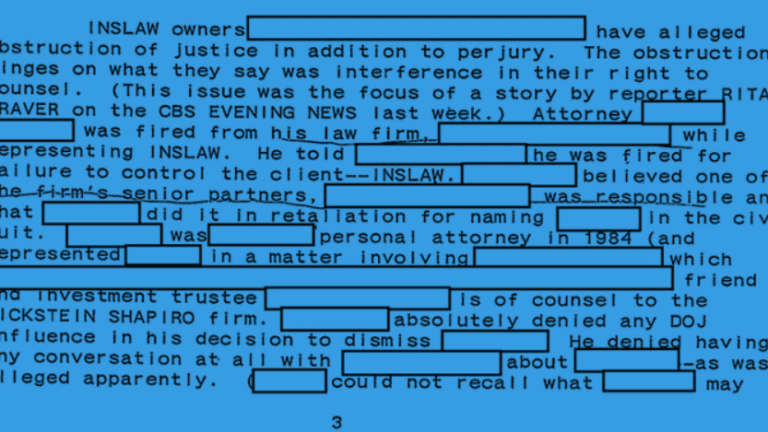 The Archetype, Part 3
Coachella (not the music festival)
This is the first of six articles (and one podcast episode) about Danny Casolaro, an investigative journalist who died under mysterious circumstances thirty years ago. In the ensuing decades, he has become a legend in his own right; for many, he's sort of the Platonic ideal of an investigative journalist. For others, he's a cautionary tale about conspiracy theory belief.
Contents:
This next part of our story begins in December 1977. At the time, the Cabazon Band of Mission Indians in California's Coachella Valley numbered fewer than thirty members. None of whom actually lived on their reservation, three arid patches of land totaling three square miles. The tribe exemplified the poverty endemic to Native Americans, and when tribal chairman Joseph Benitez met a management consultant named Dr. John Philip Nichols at a seminar, both Benitez and JPN saw an opportunity to help the tribe lift themselves out of poverty and possibly get rich in the process. (This Nichols is unrelated to Robert Booth Nichols, a person who will take on major significance below; for the sake of clarity, I'll refer to John Philip Nichols as JPN.)
After being retained by the tribe in 1977 (his salary paid from a $10,000 grant from the Bureau of Indian Affairs), JPN started looking for businesses that the Cabazon could operate. First, there was the discount cigarette operation — taking advantage of the reservation's sovereignty to sell cartons of cigarettes through the mail, tax-free. A subsequent scheme involving tax-free alcohol sales was halted by the United States government. They also established a modest bingo hall and poker room on the reservation, which the state of California tried to shut down. The tribe fought this all the way to the Supreme Court, and in 1987 California v. Cabazon Band of Mission Indians was found in the Cabazon's favor. This led to the Indian Gaming Regulatory Act, which paved the way for Indian casino gambling as it's known today.
In 1995, the old Indio Bingo Palace was rebranded as the Fantasy Springs Casino. Currently, the complex includes a $145 million resort, 97,000 square foot conference center, and an 18-hole golf course. This hard-earned wealth has eliminated unemployment in the tribe.
JPN is such a character — and the Cabazon tale is such a whopper — that a whole book could be devoted to him. One journalist, Nathan Baca, has spent a large part of his career tracking this 'West Coast Octopus,' so I don't feel the need to go into it here (you can find his reports for KESQ in Palm Springs on YouTube). If JPN is known for anything these days, it's his role in the creation of the Indian casino gambling industry. (Or it could be for this unsolved triple homicide, or for serving 18 months in prison in the 1980s for a failed murder-for-hire scheme.)
In Spy, John Connolly says that "over the years, many people have heard [JPN] boast about knowing people in high places, and about his work with the CIA, including his participation in assassination attempts on Castro in Cuba and Allende in Chile." But when Connolly asked JPN point-blank if he was a spook, he denied it: "I'm just a simple social worker."
The most infamous of JPN's schemes was Cabazon Security Corporation, formed in September 1980. By partnering with Wackenhut Security (now known as G4S) — a private security company once referred to as the "shadow CIA" — the Cabazon tribe hoped to get a leg up in the security business, and Wackenhut hoped to have an edge when bidding for jobs where small minority-run firms had an advantage.
Former FBI Special Agent George Wackenhut founded his security company in Coral Gables, Florida in 1954. In 1979, Wackenhut boasted 20,000 employees around the world providing security at the Kennedy Space Center, the Nevada Test Site, an oil pipeline in Alaska, and "six strategic petroleum-reserve sites operated by the Department of Energy in underground salt caverns along the Texas-Louisiana Gulf Coast," according to the company's annual report. The Cabazon deal would be, all things considered, a small, but potentially profitable, part of the company's portfolio. The Wackenhut/Cabazon team tried for four years to interest the government in contracts for the manufacture of artillery, but nothing came of it and the venture was terminated.
JPN was introduced to Michael Riconosciuto through a friend of George Wackenhut's mother. Speaking to Ambrose I. Lane, anti-poverty activist, talk show host, and author of the book Return of the Buffalo: The Story Behind America's Indian Gaming Explosion, JPN makes it sound like the whole Cabazon/Wackenhut deal was little more than an attempt to rehabilitate the "sociopath."
So what happened, Charles Emmert called me and said, "Look, I have a problem. We have a genius by the name of Michael Riconosciuto." He said Michael had shot down an RCA satellite in Mozambique where he had gone when he had gotten mad at RCA. Now Mike was hanging around Stanford Research Institute and he knew all the scientists there. Mike had lived with Janis Joplin in the past and it was stated he was a cook for the Hell's Angels for making amphetamines. I said, "He sounds pretty sick to me."

Emmert felt I could help get Mike cleaned up for Wackenhut. Emmert felt Wackenhut would like to have him mentally and emotionally straight to use his genius. I went to Pinole, California … Mike (Riconosciuto) was manufacturing amphetamines, apparently unknown by his dad. Mike wanted to hire me. He brought with him to the meeting $100,000 in street money. He was disheveled, dirty looking, and smelled like he needed a bath. He said, "I would like to work with Wackenhut." (Return of the Buffalo, pp. 76-77)
Although he has been called a grifter and mentally ill (by the current author, no less), Riconosciuto was also pretty bright. In the Village Voice, Ridgeway and Vaughn describe him as a "gifted child."
When he was just 10 years old, Michael wired his parents' neighborhood with a working, private telephone system that undercut Ma Bell; in the eighth grade, he won a science fair with a model for a three-dimensional sonar system. By the time he was a teenager, he had won so many science fairs with exhibits of laser technology that he was invited to be a summer research assistant at Stanford's prestigious Cooper Vapor Laser Laboratory. Dr. Arthur Schalow, a Nobel laureate, remembers him even now. "You don't forget a 16- year-old youngster who shows up with his own argon laser," he told Casolaro. ("The Last Days of Danny Casolaro," October 15, 1991)
Sociopath or no, JPN brought Riconosciuto with him to consult with the U.S. military while drumming up business for the Cabazon/Wackenhut joint project. "We sat there with the absolute top brass in United States military physics talking about particle beams [and] Riconosciuto held his own all the way through," he told Ambrose Lane. "The bottom line was Riconosciuto was nuts."Robert Booth Nichols and his wife Ellen, extras in the film Under Siege (1992)
It was through his work on the Cabazon/Wackenhut project that Riconosciuto met Robert Booth Nichols. Born in 1943 to a prominent Los Angeles surgeon, Nichols was living in Hawaii under an assumed name (Robert N. Sommers) when he was arrested in 1968 for evading the draft. By this time, if Nichols is to be believed, he had already been working for the CIA for a few years. Like the suave, James Bond-type I'm sure Nichols thought he was, his first two assignments for the CIA were to chat up women staying at Hawaii hotels to determine if they were communist spies.
When Nichols met Casolaro, he was almost 50 years old and had a lifetime of experience behind him. He was a businessman and quite possibly a "businessman," of the type that people use air quotes when describing. Writing in The Nation ("The Dark World of Danny Casolaro," October 28, 1995), David Corn said that Nichols was "Clark Gable handsome, mysterious, proficient with guns and a constant traveler who jets all over the world trading arms and other products." The FBI at one point investigated his ties to the Gambino crime family and the Yakuza, although he was never charged with anything.
Robert Booth Nichols entered Danny Casolaro's orbit through Michael Riconosciuto who, even though he appears to be crazy, sure seems to know a lot of interesting people.
Much of what we know about Riconosciuto's relationship with Nichols comes from a book by Cheri Seymour called The Last Circle. The publisher is Trine Day, a prolific Waterville, Oregon-based small press responsible for conspiracy books like Sparky: Surviving Sex Magick and Me & Lee: How I Came to Know, Love and Lose Lee Harvey Oswald. The latter is a supposed memoir of a beautiful young cancer researcher who fell in love with Lee Harvey Oswald and found herself with a front seat to the intrigue and deception of the Kennedy assassination. The author, Judyth Vary Baker, recently told me that in addition to being Lee Harvey Oswald's secret lover, she's Michael Riconosciuto's sister-in-law. I've been pestering her for an interview for months, with no luck.
The Last Circle is based largely on interviews with Michael Riconosciuto and documents that he squirreled away in a mobile home in the desert, either to cover his ass (if the Octopus is real, and is out to get him) or as fuel for further confidence tricks (if this is all a swindle concocted by Riconosciuto, et. al). Either way, the book/document dump places Riconosciuto briefly on the board of a company owned by Robert Booth Nichols called Meridian Arms. It was founded in the 1970s to develop low-cost submachine guns for American allies in the developing world. This plan was quashed because the State Department wouldn't allow Meridian to export the required technology. There was also talk of manufacturing fuel-air explosives (conventional weapons with effects similar to nukes) but nothing seems to have come of that either.
According to Riconosciuto, one of his jobs for Wackenhut was pirating Inslaw's PROMIS software, adding a "backdoor" login that made it vulnerable to hackers. This way, the software could be sold to foreign governments by the CIA or NSA, who could then access all the foreign government's data.
Michael Riconosciuto and Robert Booth Nichols stopped speaking after a falling-out in the eighties, but were drawn together again in 1991 when Danny Casolaro came calling. It might be this association, more than any other, that introduced the journalist to the forces that eventually killed him.