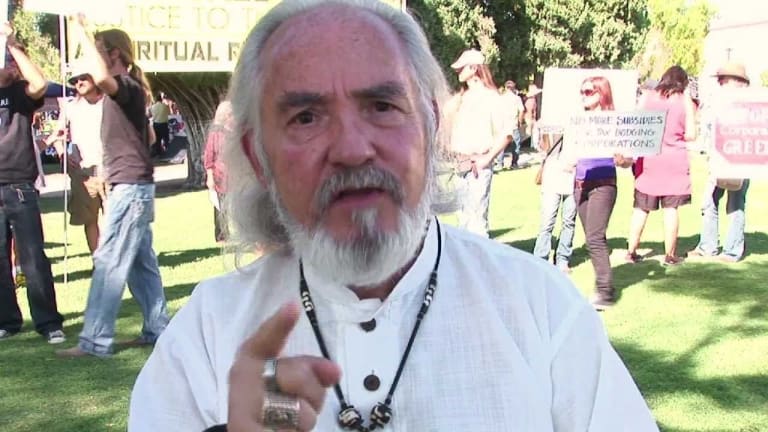 The Cult of CosmoPop
Behind the scenes in an adult contemporary UFO-themed religious sect
This story first appeared on the website Please Kill Me on June 2, 2020, but was subsequently withdrawn when the publication "receive[d] strange, somewhat threatening comments from different people about the story," according to editor Alan Bisbort. It is a good introduction to my book New Age Grifter: The True Story of Gabriel of Urantia and His Cosmic Family and a fine example of a "crisis cult," the strange social unit that forms when the world seems like it's coming to an end.
In southern Arizona, fifteen miles due north of the Mexican border, there is an unincorporated community called Tumacácori. In the 17th century, this was the location of a Jesuit mission — the chapel is still there, as part of the Tumacácori National Historical Park. However, it was an entirely different religious group, the Global Community Communications Alliance (GCCA), that brought me to this community.
The GCCA is a new religious movement (though experts such as Rick Alan Ross and Louis Jolyon West have labeled it a "destructive cult"). The group's roughly 100 members believe that society is on the verge of collapse. When it does collapse, the group will leave its fenced-in compound and ascend to its rightful place as the rulers of humanity. In the meantime, GCCA members spend their days toiling for their leader, a man who calls himself Gabriel of Urantia (but whose real name is Tony Delevin). They also serve as a captive audience — quite literally — for Gabriel's hippie jam band, Taliasvan & The Bright & Morning Star Band.
Judging by its website, the compound that the GCCA calls home is a sun-drenched paradise in the verdant Santa Cruz River Valley. But look closer, and you'll find evidence of dysfunction: an electronic gate that can only be opened by the group's leadership, surveillance cameras, and the vacant stares of Gabriel's disciples. As I became acquainted with ex-members of the group, I heard disturbing things about life on the inside, including instances of psychological manipulation and sexual abuse.
I made my first and only trip to Avalon in the spring of 2019. I was told that if I approached Gabriel's representatives as a journalist, or if I gave them my real name, I would certainly be turned away. So, I called myself Michael Flatley, after the Lord of the Dance guy (when they Googled me, I wanted to overwhelm them with results for the Irish step-dancing legend). The bogus name must have worked because when I called to ask if I might be able to visit the compound, they were more than happy to let me attend their Sunday church service.
I was told to arrive at the compound gate at precisely ten minutes before 10 on Sunday morning. I did as I was told, and was first patted down for weapons, then brought in through an electronically secured gate. At first glance, the compound was rather nice — with a big pond, a manicured lawn, and lots of oddly-shaped structures on the property, one of which resembled something from The Hobbit. In the distance, I could also see a solar farm on the premises. Smiling people of all ages shuffled happily by, on some errand or another. Of course, the whole thing was built with what was essentially slave (unpaid) labor, but the inhabitants would never admit that.
Gabriel's followers were dressed in their Sunday-hippie-best for that morning's service. At first, the scene wasn't much different than what you'd see at a Unitarian church service in any American city. First, I was taken to a building called Salvington House and hit up for fifty dollars. Then they showed me the burrito bar. Someone followed me to the restroom and waited outside while I used the facilities. Afterwards, they showed me to my seat and introduced me to another cultist, who was available to answer any questions I might have.
As I waited in my seat for the service to begin, I listened to the cool "CosmoPop" sounds of the guru piped in over the PA system. About an hour after the service began, I was moved to another seat, directly in front of Gabriel of Urantia himself. Presumably, this was so he could keep an eye on me.
The GCCA was incorporated as a nonprofit corporation in 1989 under its original name, Aquarian Concepts Community, and is led by Tony Delevin, a musician from Pittsburgh. Delevin's desire to make music seems to have been a prime factor in the formation of this cult. Delevin/Gabriel, who has been playing in bands since the mid-1960s, claims that he has turned down various recording contracts over the years because the evil record company representatives wanted him to remove the spiritual content of his lyrics. Delevin has dubbed his brand of music CosmoPop, and when he ascends to his rightful place as the ruler of humanity, CosmoPop will be the soundtrack.
"The world doesn't need another John Lennon or Elvis Presley," he writes in his autobiography, The Divine New Order. "They really did nothing to uplift our troubled planet or bring about any real spiritual change. The world needs a Gabriel and with God's help and in his time that's what the world will get."
The world is still waiting for Gabriel, and when you hear his music it's not hard to understand why. Taliasvan & The Bright & Morning Star Band plays what could most kindly be described as bland country rock, although this 11-piece ensemble seems most comfortable when it's presenting Gabriel's laid-back tunes in a competent adult contemporary style. The group includes two percussionists and two sweet-sounding female backup singers whose voices contrast sharply with Gabriel himself, who sounds like he's doing an awkward Neil Young impression. His voice is pitchy and seriously flawed.
It should be taken as a sign of the wealth he has amassed that Gabriel has a radio station in Tucson devoted to his music and sermons — KVAN-FM. "Listen to the future" is the station's slogan, although everything about it is trapped in the 1980s New Age movement.
After listening to Gabriel's music for a while in Salvington House, we watched YouTube videos on a large TV that was situated, front and center, on the stage/altar of the sanctuary. For an hour, we learned about the changes taking place to the earth and the impending end of the world while watching clips of mudslides, flooding and something called Planet X.
After the YouTube portion of the service, Gabriel, his partner Niánn (real name: Nancy), and his elders — a half-dozen high-ranking members who help run the organization — took the stage and began the service. At one point, Gabriel addressed what made him different from all the other cult leaders and conspiracy theorists out there: Faith in the Lord. Jesus Christ "will live again," he said. "That is our hope. There is no other hope. It's not in the Dracos, it's not in the Annunaki. Not in any mortal race of another world. It's in Jesus Christ. That is our hope. If you put it anywhere else, you are a stupid asshole. That is the Pittsburgh answer."
Gabriel's teaching borrows heavily from The Urantia Book, a 2,000-plus page philosophical and spiritual treatise first published in the United States in 1955. Its proponents maintain that the book was essentially channeled through a sleeping man (whose name has been kept anonymous) and edited by a study group that met in the Chicago home of a former Seventh Day Adventist named William Sadler. The book reads like old-timey science fiction, as it describes both life on other planets and an alternative history of this one (which it calls Urantia). Its concluding chapters offer Jesus stories that are purported to have been left out of the New Testament, much like the Book of Mormon.
In addition to The Urantia Book, Gabriel's teachings contain a fair amount of New Age and Native American spirituality, apocalyptic Christianity, and UFO conspiracy theories.
Sanskrita DellErba is a 32-year-old massage therapist currently living in Tucson. She is also the daughter of Gabriel of Urantia. She grew up in the cult, eventually fleeing it in late 2017.
"I remember being really young and truly believing I wouldn't live to be 18," she told me on the front porch of her home in Tucson, a couple days after I visited the compound in Tumacácori. At the time, she was living with her fiancée in relative seclusion, on the edge of Saguaro National Park.
Several times during Sanskrita's childhood, she recalled, Gabriel geared up for the "big one." The end was predicted for 1997 with the arrival of the Hale-Bopp comet, and again for the Y2K scare of 1999.
"We got bunkers," she said, "and lots and lots of cans of food, and gallons of beans and rice. And we got ready. We thought it was going to be a big event."
And then?
"And nothing happened," she laughed.
Every time that the end-time passed without incident, Gabriel had an excuse.
"My dad is really, really, really good at keeping the story going, changing the narrative to help people justify why it didn't happen," Sanskrita said. "He would say something like, 'God decided that there are still people that need to grow or come to the light, and God has mercy.' He always just had a really good reason. And honestly, it was believable. We were like, 'Yay, we didn't all die!' But it's going to happen. It's going to happen."
While preparing for the end of the world as we know it, members of the GCCA are subjected to the kinds of mind games typical of destructive cults. One of these, the Chip Game, is a "snitch system" where members are rewarded for ratting out cult members they suspect of breaking the rules or exhibiting incorrect attitudes. And then there is the Personality Integration Rehabilitation Program (PIRP), which is essentially behavior modification disguised as counseling and prayer. In fact, counseling is pretty big in this community — every member goes through some kind of counseling, overseen by a psychologist who reports everything back to Gabriel and Niánn.
Sanskrita told me that these measures took a heavy toll, that she dreaded every day for fear of punishment. I've spoken to about a dozen ex-members of the cult, and they've all emphasized the oppressive nature of the Chip Game, PIRP, and the mandatory counseling sessions.
Between 1989 and 2009, the GCCA was based in Sedona. There was no centralized compound, so the group lived scattered among the city's Upper Red Rock Loop Road.
The service was held on Sunday. On Wednesday, I traveled to Sedona with Sanskrita and her boyfriend, Joshua Lilly, another ex-member of the cult. Along the way, in Cottonwood, we picked up yet another ex-member named Greg Vohland. Our first stop was Camp Avalon, a $25/day campground owned by the cult. The development of its fourteen acres came through the free labor of Gabriel's followers.
The campsite is only one of several money-making enterprises that Gabriel controls. I am told by various ex-members that the main fundraising entity for the community is Soulistic Medical Institute, a 501(c)(3) nonprofit that operates a day spa in Tubac. The spa offers massage therapy, acupuncture, and Tron therapy, a novel therapy that involves something called "Energetic Directional Cleansing." Before receiving treatment, an introductory session is suggested ($150). The spa also offers services like an IonCleanse Detox Footbath ($50 for 30 minutes) and Lymphobiology treatments ($90 for 75 minutes).
Even more impressive than the day spa is Soulistic Hospice, with locations in Tucson and Tubac, Arizona. The hospice provides end-of-life care for patients, including 24-hour nursing and "spiritual care" from GCCA interfaith ministers. These services are covered under Medicare Part A.
According to an ex-member named David (who asked me not to use his last name), the hospice is what's keeping the cult afloat.
"They found a way to make a lot of money tax-free, or a way to move a lot of money very cheaply," he said. "Because they have their own volunteer [hospice] personnel who donate all their income to the community."
The State of Arizona stopped requiring financial disclosures from nonprofit corporations in 2008, so it's hard to tell exactly how much money the Soulistic Medical Institute is making. However, there are indications that on the whole, Gabriel's community is doing quite well. In 1996, the Global Community Communications Alliance disclosed over $900,000 in assets. In 2008, that number had increased to $22 million, and one assumes that the trend has continued upward in the last twelve years. According to real estate records for Pima, Santa Cruz, and Yavapai counties, a conservative estimate of Global Community Communications Alliance real estate holdings comes to over $10 million.
As we drove to Sedona, the ex-members told me stories about community life. Once a year, according to Joshua, they made the 45-minute trip from Sedona to Flagstaff to shop at the thrift stores. They were each given $40 for their annual clothing allowance. This took them outside of the "protected five-mile radius" in which they spent the bulk of their time.
According to Gabriel, the community resided in a protected zone, outside of which his followers were in danger of "distortion and delusion energies" that posed an "ever-increasing" danger (according to the cult's Student Handbook). A more cynical interpretation would be that Gabriel cooked up this concept to keep his followers in a "virtual compound" in Sedona before moving to the actual (present-day) compound in Tumacacori.
Greg, who joined the cult in 1993, recalled community life in Sedona as being much easier than it is now.
"You were like a normal person" in the early days, he said. You were in the community-at-large. You had a job and your own money, a small percentage of which was tithed to Gabriel. Soon everything changed for the worse.
"It was one of those slow, steady things," Greg said as he described the group's shift. At first, Gabriel started dictating where people could live. A little while later, they were required to hand over their vehicles. After that, he said, the community started using members' credit cards to pay its bills. This change took about two years.
Aside from Soulistic, the GCCA also operates Magicland Realty and Investments, through which it is selling (or is trying to sell) some of its unused real estate in Sedona and Tucson. And there's Global Alliance Properties, which manages the group's five luxury vacation rentals. Of all of these, the most impressive is Moondance, a $1.2 million mansion (according to Realtor.com) boasting eight bedrooms, six baths, 6,700 square feet of living space, and a swimming pool. This goes for $850 – $1,125 a night, depending on the season, with a five-night minimum (no pets allowed). Moondance was previously Gabriel's home in Sedona.
A former GCCA member named Jackie (she also asked me not to use her last name) got to see the wealth disparity between Gabriel and his followers first-hand when she worked in his home office. While the rank-and-file members were eating food from a local food pantry, she said, Gabriel was "living like a king."
"He just had an in-ground pool put in and he was drinking Perrier water and he was getting these gourmet cheeses and meats," she says. "It was like anything you hear about a Communist dictatorship. We were the peons, do all the work, get nothing, and the king sits there and gets everything."
In addition to the above enterprises, the GCCA has organic gardens and raises animals for meat, dairy, and eggs. And in January of this year, the cult announced that Mystic Farms — "Arizona's first and finest industrial hemp farm" — was open for business.
Rick Alan Ross is an internationally known cult expert and the founder of the Cult Education Institute. He has been accepted and testified as a court expert in eleven states, and at least two of those cases have involved the GCCA. Over the years, he's spoken to a number of Gabriel's ex-followers.
I asked him what he's heard about Gabriel over the years.
"That he controls millions of dollars," Ross said. "That the people work for little if any meaningful compensation. And in my experience, when you have free labor you can build up quite a lot of equity in property and in businesses."
As the years pass, according to Ross's sources, Gabriel has become increasingly wealthy, increasingly disconnected from reality, and increasingly harsh with his followers.
"Which I think is typical of some extreme cult leaders," he continues. "They're constantly being praised, they're constantly being fawned on, and obeyed without question, and they become delusional."
In other words, they begin to believe their own bullshit.
"They believe yes, I am the messiah," Ross continues. "Because there's no one there to say, C'mon, Tony! C'mon, it's me! You're from Pittsburgh. Get over it."
In December 2019, a former teacher in Gabriel's community, Danny Joseph Gonzalez, pleaded guilty to one count of attempted sexual conduct with a former student, a 14-year-old girl, and was sentenced to nearly eight years in prison. According to ex-members of the cult, his crime was only the latest in several instances of sexual abuse that have occurred in Avalon.
Shiloh Helminiak is a 24-year-old former member of the GCCA. Her family joined when she was two years old, and she remained there until she fled at the age of nineteen. I spoke to her in February of this year, in her home in Fort Wayne, Indiana. She told me about other incidents of abuse that never caught the attention of the authorities.
"I was sexually abused for a couple of years [beginning when she was five]," she said. "And I didn't have anyone to go to, you know. When you're constantly getting in trouble and everything, you eventually just stop talking about how you're feeling, and you just hold it all in."
This person, who Shiloh doesn't want to name publicly, confessed his crimes to the cult's elders when she was "twelve or thirteen."
"Basically, they pushed it under the rug and it never came up again," she said. "But I got put onto a program and I wasn't allowed to be alone with men. Like I was the one who'd provoked it. And you know, it does psychological damage to you. You start thinking that you're not a good person or that you're not worth it, you know? And I had to face him every day."
Another ex-member, who wishes to remain anonymous, told me that she was abused by several people in the community. One man, the children's caregiver, exposed himself repeatedly to the children and, at least once, slept naked with the anonymous source, who was "five or six" at the time.
"I don't remember the details" of the incident, she says. "It must have been something pretty bad, because I just felt so disgusting."
Starting at the age of 10, she says that she was abused by the same person named by Helminiak. He was a teenager at the time. She says that she was abused so often that she lost count.
"He would just stick his hand in my pants, underneath, and start by grabbing my private parts and like messing around with them for like long periods of time," she says. "And he'd always put a backpack over our laps, or a pillow, or — and this is happening in classes… like when we were doing math. He would just do it everywhere."
Where were her teachers while all this was happening?
"Good question! Because looking back, I'm like, wouldn't they have noticed? I don't know. I feel like it was obvious," she said.
She never told any adults, she says, "because I felt responsible. I felt like I let it happen, and therefore was complicit, and then I felt very ashamed."
She, too, asked me not to name the abuser publicly.
Years later, this individual felt remorse, and that's when he confessed his crimes to the cult's elders. He also disclosed that "he basically gets erections when he sees young men peeing and likes to show his erect penis to children," according to the source, who thinks the confession might only be the tip of the iceberg. "I think there's definitely things he could have done that were worse, but I think he was trying to be as honest as he could without them kicking him out officially."
In response to his confession, the cult cut him off from all contact with children and placed him under constant supervision. But the main part of his treatment was mandatory counseling.
They did not go to the authorities or anything like that," she said.
To be clear, Gabriel himself has not been accused of sexual abuse, and the community has not condoned, in any way, these crimes. But it's worth noting that the only time charges were filed was when the abuser, Danny Joseph Gonzalez, happened to be in a heated custody dispute with Gabriel's daughter, Ellanora.
I've learned about five victims in total: two of whom are no longer in the community, two who are still in the community, and one who has since died. And I have the names of four people alleged to have committed the abuse. One, Danny Gonzalez, pleaded guilty and is in jail, and another was eventually kicked out. The two others are still in the community.
It makes sense that the cult's leadership — Gabriel, his partner Niánn, and a half dozen "elders" — would handle this sort of thing in-house. On the one hand, the less law enforcement heat on the group, the better. Then again, why would you even go to the cops when you have access to the most powerful spiritual figure on the planet? Certainly, his healing powers dwarf those of the American criminal justice system. Either way, as long as Gabriel continues to handle his child predator problems through prayer alone, the children in his community will never be truly safe.
According to the City Directory of 1965, Anthony J. Delevin (Gabriel's legal name) grew up at 1715 Watson Street, in Pittsburgh's Uptown neighborhood. When he was in high school, Uptown was a vibrant residential area with its fair share of Italian-American families. These days, the narrow 19th-century row houses that once lined the street are all but gone, largely replaced by parking lots. Still, there are some indications of the old neighborhood: a small cluster of homes on Van Braam Street, Merante Brothers' Italian American Market on the corner of Watson and Marion, and the old Roma Bottling Company, founded in 1908 by Jacob Sodini, an Italian immigrant from the province of Tuscany. The Roma Bottling Company name remains on the side of the building, but the space that once housed the bottling works now houses upscale condominiums.
It's one thing to know what might be going on behind the fences of Gabriel's compound, but it's quite another to understand why. I had hoped that a trip to Watson Street might unearth some clues, but all I saw when I stood at the former site of the Delevin family home — now an empty lot — was a sign for a place that used to buy blood plasma before it closed down.
In the archives of The Pittsburgh Press, there are glimpses of Gabriel's teenage years, when he was a struggling young musician known as "Tony" or "T.J." One ad, which ran on December 10, 1964, promoted an appearance at a place called Bon Ange on Route 51. The following May, the same paper advertised a performance of T.J. and the Night Kaps at The Caravan on Murray Avenue ("DISCOTHEQUE plus Dancing with GO GO GIRLS"). And there is a November 1966 ad for Tee Jay & Duke's Quintet at VFW Post 5008 in East Pittsburgh.
Gabriel's success as a young R&B singer from the mean streets of Pittsburgh features prominently in his origin myth. However, there is little to suggest that he'd achieved any measure of real success in the entertainment business, aside from copyrights filed for three songs in 1966: "Come Into My Heart," "Jive-Doo-Ley-Bop," and "This Boy Got Class." (Indeed, according to Henry Yoder, who produced his first album in Pittsburgh in the mid-1980s, Gabriel was never a well-known member of the city's music scene.)
You can't say that Gabriel isn't driven. His collected works — various books, including The Divine New Order and The Cosmic Family Volume 1 and 2, the sermons, the music (available for purchase from his Cosmic Change Tools website), even the "cosmic names" he bestows on his followers — suggest a desperate need to be recognized, both as a musician and a spiritual leader. To be recognized as something more than human, perhaps, but mostly to be seen and loved for who he really is.
I suspect that the key to all this might be contained in something from The Cosmic Family Volume 1: "God is love," he wrote, but "God is also discipline and judgment. It is time on Urantia for the Father Circuit to appropriate the judgment." One is tempted to play armchair psychologist when reading this — might this "Father Circuit" be an echo of Gabriel's relationship to his own father?
Sanskrita, who never knew her grandfather, can only relate what Gabriel has told her about their relationship.
"His dad called him a wuss and a wimp for wanting to pursue acting and singing," she says. "And my dad wanted to be seen, in his [father's] eyes, as a man. And also as a singer and an actor, and whatever else he was pursuing. And I think it was very painful for him. Really painful."
Gabriel never received unconditional love from his own father, and Sanskrita says that this is something that deeply troubles him to this day.
"I think all of us have wounds," she says, "and I think that some of us, if we don't do the proper healing, and we're not honest about it… we create these illusions around us. We create these grand plots and schemes and then we pull people in, and we want that reinforcement from them. And we end up hurting people, because we're hurt, too. And he's very hurt. He's just very hurt. And it's hard to see him being hurt. For years, he's just been this way."
Like other rogue American gurus of the recent past, it seems that at least part of Gabriel's messiah complex stems from the fact that he couldn't make it as a musician. You'd hope that someone with this kind of anger and frustration would come up with a sound that's more intense, more visceral, more kick-ass, than the breezy, jam-band-derived sounds of TaliasVan & The Bright & Morning Star Band. But Gabriel was never the kind of guy who would accept input from others, and I don't think he's going to start now, at 74 years of age.
Might it be that this whole project, the Global Community Communications Alliance, is at its heart an anguished cry from a frustrated artist? Has Gabriel assembled what he calls his "cosmic family" simply because of the love that he didn't get from his own father? I guess crazier things have happened—but not much crazier.