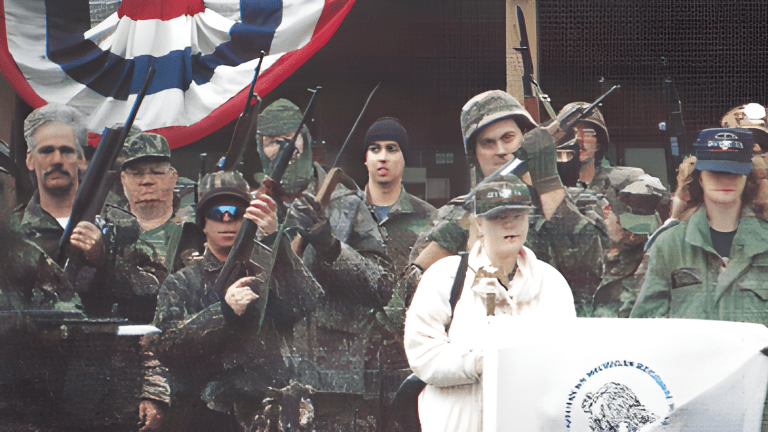 A Tale of Two Militias
The Whitmer kidnapping plot, Bradford Metcalf, and twenty-five years of government corruption
Earlier this year, I visited Dunn Road in the unincorporated community of Munith, Michigan because I wanted to see the former training grounds of the Wolverine Watchmen for myself. There wasn't much to see from the road, aside from a double-wide trailer with a couple boarded-up windows. I knocked on the front door to see if anyone was inside but there was no immediate answer. The "no trespassing" sign (featuring the words NO TRESPASSING and a picture of a gun) unnerved me, so I quickly gave up and drove off.
Munith became known to the world at large in October 2020, when thirteen men were arrested for allegedly plotting to kidnap Governor Gretchen Whitmer in the run-up to the presidential election. Additionally, at least a dozen of the Wolverine Watchmen, the militia who planned the attacks, were later identified as criminal informants. It appeared that if it wasn't for the feds, there would have been no kidnapping plot at all, at all.
I'm "a man of the left," as Norman Mailer was fond of saying. I don't own any guns, I'm certainly not about to join a militia. As much as I despise federal law enforcement, I definitely think that if anyone is going to assassinate people and blow shit up, they should go to jail for a long time. But as I looked into this story, I couldn't help but think that there was something suspect going on here. That these militia guys were getting boned. And if that is true, it has implications for all of us — wherever you happen to find yourself on the political spectrum.
Curious what the community thought of the Wolverine Watchmen controversy, I drove to the crossroads that marked the center of town. There wasn't much there — a post office, a gas station, and the Munith Cafe, which advertises itself on Facebook simply as an "American Restaurant." The door was locked, and before I could knock a woman answered. Maybe 5'10", grey-haired and rail-thin, she looked to be in her late fifties.
After opening the door, she apologized for being closed: "We can't find anyone to work."
"Actually, I'm writing a book about militias."
"I can't help you," she replied as she shut the door on me.
I started walking to my car when I realized there was a life-sized statue of Bigfoot in the parking lot, looking me over skeptically. I returned to the front door of the cafe and knocked — I wanted to ask the woman about the statue — but she didn't answer this time.
On the other side of the building was an ordering window and a sign advertising Big Chuck's Pizza Plus. I asked for a small cheese pizza, and while paying I started chatting with the woman inside.
"This isn't Chicago-style or anything," she said. "Just your standard pizza." She then asked if I was in town visiting people.
"No, I'm writing about militias."
At this, the woman sorta let out a sigh and looked skyward.
"We don't give out any information," she said, in a way that sorta made me think that maybe she had some information to give. "We're just a small town. We don't get involved, and we don't talk about it."
She wasn't exactly rude, but she did slide the window shut before I could say anything else.
Michigan is the birthplace of the modern militia movement. In April 1994, an Air Force veteran, Baptist minister, and gun shop owner named Norm Olson founded the Michigan Militia, the second in the country (the Militia of Montana predates it by two months). The group grew quickly; by 1996, Olson claimed more than 10,000 members throughout the state's 83 counties.
"Unless there is an immediate turnaround for our country, spiritually, morally, in law," Olson told a TV news reporter in 1994, "there will be conflict. It's inevitable." This neatly sums up the attitude that makes militias attractive to certain people; people who see the country falling apart, so they turn to the Bible and the Constitution for answers. And they turn to figures like Olson, who use America's history and mythology as a lens through which to view the current era's troubles.
It's worth noting that the militia movement isn't part of a continuous tradition reaching back to the founding of this country, however. It's almost wholly a political movement born out of the eighties and nineties.
A hemp activist and union president named Scott Ploehn was inspired by Olson's call and helped organize the militia in his part of the state. For a while, he was the leader of the Calhoun County Brigade of the Michigan Militia, until 1995 when Ken Carter was elected to replace him. The statewide organization didn't like Carter, who was considered too radical, and expelled his unit, roughly two dozen men total.
"We booted them out two years ago and notified the BATF and FBI that they were a danger to society and to themselves," Michigan Militia commander Lynn Van Huizen told the Detroit Free Press in 1997. "We won't stand for that. We tell our members to obey the law."
The Calhoun County Brigade was known as "Goof Troop" among the Michigan Militia leadership, but eventually it settled on a name for the new spin-off: North American Militia. Ploehn remained involved in the group he once led, speaking at meetings and writing pamphlets and letters to the editor, while the actual planning and training for the inevitable conflict was left to the other guys.
Scott Ploehn captured the mood of the times in a letter to the editor of the Battle Creek Enquirer that ran on December 2, 1996:
DON'T SUBMIT TO THE NEW WORLD ORDER

Throughout history, many forward-thinking, patriotic, God-fearing individuals have chosen to endure the ridicule that invariably accompanies continued attempts to educate friends, family and co-workers on the dangers of ignoring the gradual encroachment of tyranny.

We will gladly suffer the slings and arrows of indifference. It is worth it, for our country. If I can wake up but one more sleeping patriot, it is worth it. Fellow citizens, we are in troubled times, and I don't see it getting better soon.
Ploehn ended his letter with a call to action: Either join the North American Militia, which meets at Speed's Koffee Shop in Urbandale every Thursday, or face "a life of servitude under the Novus Order Seclorum ('New World Order')."
A post on the Usenet board misc.activism.militia by Ken Carter from 1997, titled "To all Christian Brothers and Sisters," further highlights the beliefs of the North American Militia. Carter writes, "we believe that the United Nations is the law makers of Satan, we believe that IFOR [the UN peacekeeping force in Bosnia and Herzegovina] is the military force of Satan, we believe that the New World Order is the stage for the Coming of Satan, and the end of life as we know it."
New World Order or not, the United States is still here, almost 25 years since Ken Carter wrote those prophetic words. In the meantime, a new generation of militia activists has come to prominence, internet-natives who were barely alive during the presidency of Bill Clinton. The New World Order may be on their list of grievances, but it tends to rank below Critical Race Theory, Cultural Marxism, and vaccine mandates.
The Wolverine Watchmen were very much of this moment, and they weren't exactly competent-seeming. The alleged ringleader, Adam Fox, has been portrayed in the media as a weightlifting enthusiast pushed to terrorism by the fact that the gyms were closed during the lockdown. At the time of his arrest, Fox was living in the basement of a vacuum repair shop in Grand Rapids. His living quarters were accessed by a trap door in the floor that was kept hidden under a carpet during business hours. He shared the space with his dogs and inventory for the shop.
When the FBI announced the arrests of 13 men for plotting to kidnap Whitmer and terrorize the State of Michigan on October 8, 2020 (plus another man one week later, for a total of 14) the media coverage was uniform: these were terrorists, and good on the FBI for taking domestic terrorists seriously, for once. The feds made the bust with confidential informants, over 1,100 hours of audio and video surveillance, and thousands of pages of social media content.
It seemed like an open-and-shut case: In early 2020, the group appeared on the Bureau's radar with social media posts encouraging "violent action against multiple state governments," according to a federal criminal complaint made against seven of the men.
The longer that law enforcement watched, the more it found to be alarmed about: When antigovernment sentiment came to a boil in April with the storming of the Michigan state capital, Wolverine Watchmen were there. Two months later, over a dozen people met in Dublin, Ohio where they discussed a strategy of recruitment and large-scale attack on the government. That summer, when they couldn't recruit the 200 men they figured they'd need (or get their improvised explosives to work) the militants decided on a strategy with less overhead: they would kidnap the governor of Michigan and try her in a kangaroo court. Members of the militia even went so far as to reconnoiter her vacation home on Birch Lake.
When they were finally busted, very few people were on the Wolverine Watchmen's side. The media pounced, and even the old-school Michigan Militia guys I spoke with called them criminals and terrorists. And while I agree, one part of the would-be kidnappers' defense rings true: The plot would never have gone this far, they say, had the FBI not goaded them on and provided crucial material support. 
By 1997, law enforcement scrutiny had become a regular occurrence for the North American Militia. In March, 32-year-old Brendon Blasz (rhymes with "phase") was arrested on explosives charges. He and his colleagues "planned to bomb the federal building in Battle Creek, the IRS building in Portage, a Kalamazoo television station and federal armories," according to a story in the Detroit Free Press. Far from being a steely-eyed killer, Blasz is described by those who knew him as a fuckup worthy of the "Goof Troop" name. He claimed to be ex-Special Forces, although anybody who'd seen him training quickly realized that this was impossible.
And Blasz wasn't the only Goof Trooper. There was Jeff, whose poor shooting belied his claims to being a retired Green Beret. He joined the North American Militia with a guy named Gary after they were both kicked out of another militia in Kalamazoo. Gary's nickname was FedEx because everybody believed he was a federal informant.
"Since we didn't believe we were doing anything illegal and most of us weren't," says militia member Bradford Metcalf, "we all laughed about it."
Blasz, then employed as a cook at a pub near the Kalamazoo-Battle Creek International Airport, struck up a friendship with a man named L'Shawn Phillips, who in turn worked in the drive-through window at a nearby liquor store. When the African-American Phillips started hanging around the militia, he was seen as the solution to a vexing PR problem.
The media "were calling us racists and all kinds of stuff," Scott Ploehn says. "Then we got a black guy who wants to join our group, so we were embracing it. He was like our best friend. And we're treating him real nice. Well, he turned out to be an informant that was working off his own drug bust by joining up with us." Not only was the informant invited into the fold, he was made head of security.
When Blasz was arrested, the Battle Creek Examiner reported on an alleged North American Militia plot to blow up federal buildings and a local TV station, with stories full of details like the sniper position he had set up in his attic in case the feds tried to "Waco" him.
In the end, much of the evidence — in the form of audio recordings made by Phillips while he was wearing a wire — was of dubious value. The two men were so drunk while discussing their plans that much of the audio was unintelligible. "My client has a drinking problem," said Blasz's attorney Sharon Turek. "Some of the conversations have to be taken with a grain of salt."
After cooperating with authorities and pleading guilty to making pipe bombs, Brendon Blasz was sentenced to three years and one month without parole.
Writing from prison, Bradford Metcalf has had a lot of time to think about how the ATF finally broke up the North American Militia. His grievances are enumerated in a document that his brother sent me. Originally titled "A Malicious Prosecution: Ruminations of a Senior Citizen Armed with the Constitution" (to which was later appended a second title: "I am NOT a Terrorist"), this is the story of a guy trying to make things work in a world that is at times cruel and absurd. Metcalf seemed to take it all in stride, however — God and the United States Constitution are his compasses, and all things considered, he seemed to be getting through life well enough.
It all came crashing down on August 13, 1997. Metcalf was driving home from his third shift production job at Kellogg's when two Michigan State Police officers pulled him over, cuffed, and detained him while they spent the day ransacking his home, looking for illegal weapons.
Among the items seized were a parts set for a .50 caliber machine gun, bolt action rifles, pistols, semiautomatic rifles (over a dozen), and enough ammunition that the ATF needed to rent a U-Haul to confiscate it all. Metcalf says that he had held a federal firearms license for six years, but he let it lapse prior to the raid.
The weapons were seized, but it wasn't until the following spring that Metcalf was finally arrested, along with militia commander Ken Carter and another man, Randy Graham. They were arrested for conspiring "to possess machine guns, to plan and discuss attacks upon various federal facilities and instrumentalities of interstate commerce, and to threaten to assault and murder federal officers and employees," according to the indictment.
Special Agent Robert Stumpenhaus of the ATF had gone undercover with the group, posing as a militia activist from the northern half of the state. Working with a confidential informant (CI), Stumpenhaus documented Carter's plans to resist an invasion by the federal government or New World Order.
Calhoun County was divided into sectors, each of which was assigned to a three-man cell; in the event of attack, orders would be dispatched through numerical codes sent to militia members' pagers. Stumpenhaus and his CI were assigned stretches of Highway 89 and Highway 97, where they would disable powerlines and destroy ambulances. Once that was taken care of, the men were to look for "targets of opportunity" — specifically, cops under the age of 40 — to kill. Carter's theory was that cops younger than 40 were pawns of the New World Order.
Shocking stuff, for sure — but also quite preposterous. Among Carter's claims is that the Marine Corps would secure the southern tier of Michigan when the time came, and that the militia was going to overtake nearby Fort Custer National Guard Training Center, all 200 acres of it.
Metcalf, communicating with me from prison using an inmate email system called Corrlinks, calls Carter "delusional."
"The thing is," Metcalf writes, "he could not have accomplished any of it himself — he wasn't that competent." Metcalf calls Carter's plans "war games," training exercises like those conducted by the military. In fact, many of the men (including Metcalf) were unaware of the full scope of Carter's plans.
Carter and his bizarre plans feature on every page of the reports filed by Stumpenhaus between April 17, 1997 and February 12, 1998, while Metcalf appears three times. In July, Stumpenhaus attended a militia training at Metcalf's home, where the two met briefly. A couple other times, Carter mentioned Metcalf to the agent in passing, remarks that made it into a report.
When he was arrested for his role in the conspiracy, Metcalf refused to plead guilty. He had nothing to do with the war games, and he was careful to make sure his guns were legal.
Following the path of least resistance (as is typically the case), government prosecutors made a deal with Carter, the actual focus of the investigation, and used his testimony to throw the book at the other two named defendants, Metcalf and Graham.
Metcalf did two things to ensure he would receive the maximum sentence. Judges don't like it when you plead not guilty, as Metcalf did; and they really don't like it when you act as your own lawyer, which Metcalf also did. As a result, Ken Carter — who arranged for the distribution of bomb-making materials, handed out prescription drugs like they were candy, and was fond of making statements like "war is war, and there's going to be casualties," was sentenced to five years. Graham was convicted of conspiracy and of growing marijuana to bankroll the conspiracy. He received a 55-year sentence.
Bradford Metcalf, age 48, was sentenced to 40 years — a virtual life sentence. While there are hours of tape of Carter talking about manufacturing explosives, killing cops, and blowing up ambulances, Metcalf is heard talking about little more than the Oklahoma City bombing and, perhaps, appearing on a daytime talk show. "We'll fit right in" on Jerry Springer, Metcalf told Carter, according to a report in the Battle Creek Enquirer. (When asked about this, Metcalf doesn't remember making the statement. "The feds often got someone else confused with me (and vice versa) on the [phone] tap tapes," he writes. "It is a competence thing.")
The plot to kidnap Michigan Governor Gretchen Whitmer was hatched in June 2020, in a meeting in the Columbus suburb of Dublin, Ohio. Eventually, six men would face federal charges for the conspiracy, while an additional eight men received state charges for providing material support to the would-be kidnappers. All but one of the federal defendants have pleaded not guilty.
The thing of it is, if it weren't for confidential informants, the plot might have never proceeded as far as it did. In fact, it might not even have been hatched at all. One informant, an Iraq War vet known only as "Dan," was instrumental in holding the conspiracy together, eventually rising to the level of second-in-command. He trained the men and used FBI coffers to bring people to the Dublin, Ohio meeting and pay for their lodging. In addition to Dan, there is another key individual in the conspiracy worth noting:
Stephen Robeson, a burly concrete and asphalt contractor from central Wisconsin, had helped organize the national meeting, and he was enthusiastically pushing people he knew to attend. Thomas Leager, a gun lobbyist from Wisconsin, later recalled being invited by Robeson so many times he'd lost count. Despite the pressure, Leager, busy with other things, declined to go, a decision he subsequently attributed to divine intervention.

Jeremy Deeter, a Three Percenter who lived only 20 miles from where the meeting was to be held, wasn't sure he would go either. But Robeson, 57, called him so often, he said, he finally relented. On the morning of June 6, accompanied by his wife and daughter, he drove to the Drury Inn and Suites in Dublin, a suburb of Columbus. ("Watching the Watchmen," Buzzfeed)
Robeson, known to his friends as "Robey," is the founder of the Wisconsin Patriot Three Percenters and a long-time informant who had helped send people to jail four times between the 1980s and 2005.
"The FBI knew these people had some beliefs and were egging them on and providing help and ammunition," attorney Kareem Johnson told The New York Post. "They encouraged, helped instigate and escalated the criminal conduct of those individuals. At the end of the day, there were almost as many FBI agents leading the group as the other people in the group."
Johnson is the attorney representing Pete Musico, known as "Crazy Pete" to his fellow militia members. (It was Crazy Pete's home that I visited at the beginning of the story.)
All told, the government has admitted to the use of at least a dozen informants to break up the Wolverine Watchmen, according to the lawyer for defendant Brandon Caserta. Not only does this kind of law enforcement overreach risk putting innocent people in jail, it creates an environment where even justifiable prosecutions are delegitimized. In that way, there's a direct line between Bradford Metcalf's fate and the desperate right-wing agitprop of people like Tucker Carlson and his weird "Patriot Purge" docu-series, only the latest attempt to rewrite history from the fascist's perspective. Between those two poles lay decades of corruption — and decades of wasted time and resources that would have been better used going after actual threats.
The jury trial of Adam Fox, Brandon Caserta, and other Wolverine Watchmen defendants is set to begin on March 8, 2022.
Bradford Metcalf, 70 years old, is currently an inmate at FCI Williamsburg in South Carolina. His release date is set for April 24, 2032.