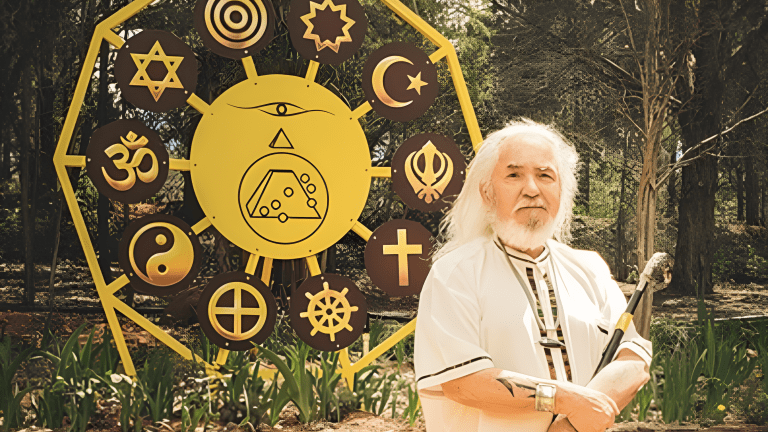 Everything We Know About Gabriel of Urantia
Keeping tabs on our favorite UFO cult leader
You might remember Gabriel of Urantia a/k/a TaliasVan of Tora a/k/a Tony from Pittsburgh, the leader of a UFO cult in Arizona that we really can't get enough of. The Global Community Communications Alliance (GCCA) is the perfect example of a crisis cult, the social unit that comes together when the world gets seriously weird and people start freaking out over it. His community predates the current dystopia by over three decades, but we'd argue that the problems that created this dystopia — American empire abroad, systemic racism at home, late-stage capitalism run amok, and the crisis of faith that is modernity — were in full swing in the 1980s when Tony Delevin from Uptown in Pittsburgh created this character Gabriel.
For more about this group, be sure to check out the book New Age Grifter by Failed State Update publisher Joseph L. Flatley.
---
Articles
Behind the scenes in an adult contemporary UFO-themed religious sect.

This story first appeared on the website Please Kill Me on June 2, 2020, but was subsequently withdrawn when the publication "receive[d] strange, somewhat threatening comments from different people about the story," according to PKM editor Alan Bisbort.
Originally appeared on Failed State Update on December 10, 2021
Gabriel of Urantia: The End is Nigh! (again)
The so-called prophet from Pittsburgh makes another of his famous doomsday predictions.
Originally appeared on Failed State Update on December 14, 2021
Merry UFO Cosmo-Cult Christmas!
A look at Gabriel's most insane video yet, his Christmas pageant "The God Child Came."
Originally appeared on Failed State Update on December 24, 2021
The Half-Wit and Wisdom of Gabriel of Urantia
Tony from Pittsburgh, in words and images.
Originally appeared on Failed State Update on March 14, 2022
Gabriel of Urantia Warns of the Apocalypse… But This Time We're Afraid He Means It
Joshua Lilly joins us to dissect the cult leader's latest message, but first a conversation about the cultural importance of Project Monarch mind control myths
Originally appeared on Failed State Update on May 6, 2022
Gabriel of Urantia on Guns (and His Critics)
More half-wit and wisdom from our favorite UFO cult
Originally appeared on Failed State Update on May 27, 2022
Podcasts
Part 1: Series introduction
Part 2: The Negative Network
The first full-length episode begins with a trip to Gabriel's compound. After that, a former follower and one of Gabriel's most outspoken critics, Laird Scott, talks about discovering, joining, and eventually fleeing the group. Finally, a former colleague of Gabriel talks about working with him in Tucson in the 1970s.
Part 3: The Shift
Sanskrita DellErba is the daughter of Gabriel and Niann, the founders of the Global Community Communications Alliance. In this episode, she tells us where the cult came from and what it was like to grow up in that environment—and shares a lot of stories about her father in the process. We also hear from people who knew Gabriel and Niann before they were the highest spiritual beings on the planet.
Part 4: Aquarian Concepts
The Global Community Communications Alliance was founded in 1989 under its original name, Aquarian Concepts Community. In this episode, we talk to one early member about community life. We also speak to cult expert Rick Alan Ross about cults in general and Gabriel's in particular, before learning about the revelation that Gabriel has adopted, The Urantia Book.
Part 5: Personal Transmission
When Gabriel of Urantia makes contact with the voices in his head, he calls this a "transmission." Sometimes these messages are meant for a particular member of his cult—this is a "personal transmission," and it is quite an honor. In this episode, various members of the Negative Network will give us their theories about the nature of this phenomenon. We will also hear from someone who knew Gabriel in Los Angeles in the 1980s. Lastly, we will meet Joshua Lilly, an ex-follower of Gabriel who lost his family to Gabriel's cult.
Part 6: David / Alveed
David (cosmic name: Alveed) was a member of Gabriel's Aquarian Concepts Community from 1999-2009. In this interview, we talk about how he came to join the community, its use of coercive psychology, and how he fled with his son after ten years of cult life.
Part 7: Celestial Healing
What are the spiritual implications of hydrogen and oxygen? How does the GCCA make its money? And what (or who) does this group have in common with the infamous California rehab cult Synanon? These questions and more will be answered on this episode of The So-Called Prophet From Pittsburgh.
Part 8: Mr. Image Man
This is the final episode of the series (for now) and probably the most shocking. It's definitely the most upsetting. Topics covered include incidents of sexual abuse and the mistreatment of children in the GCCA. I also take a trip to the guru's childhood home and recount the story of his former son-in-law (and how he wound up in prison). Warning: this episode includes discussion of sexual abuse.
BONUS: Joshua Lilly / VanMon
Joshua Lilly is a former follower of Gabriel of Urantia, the subject of this podcast as well as my latest book, New Age Grifter. He's also something of a "fan favorite," so — due to popular demand — I gave him an episode of the Failed State Update podcast to tell us about his life and times in (and out of) a religious cult.
Video