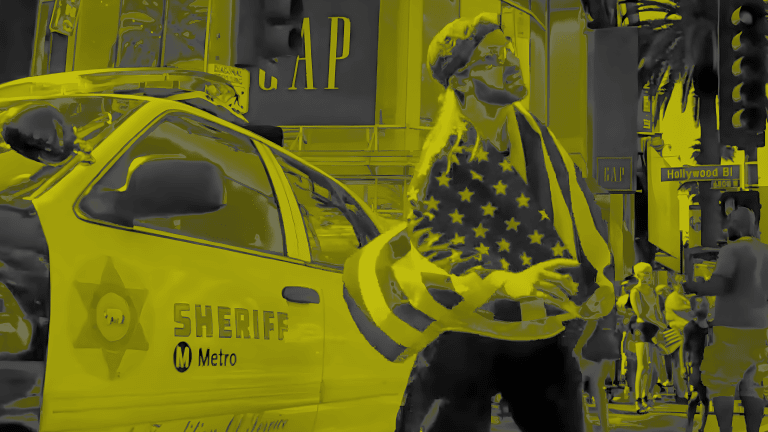 Baked Alaska: From Buzzfeed to the Capitol Riot in a Few Short Years
A Failed State Jukebox/Profiles in Stupidity crossover event!
Our regular feature Failed State Jukebox is a window into the bizarre world of far-right, populist, and dystopian pop music. Our other regular feature, Profiles in Stupidity, focuses on conspiracy grifters, alt. right scumbags, and various peddlers of misinformation. We couldn't decide which description applied to internet influencer Baked Alaska, because really, he's a bit of both.
When Tim "Baked Alaska" Gionet's lawyers asked for the judge for leniency last March, they tried a novel legal theory: He wasn't a threat to the community, they said, and they had the music video to prove it.
"We Love Our Cops" is a heavily autotuned ditty clocking in at a mercifully short two minutes and thirty seconds. The track, released in 2016, is clearly a troll, with lyrics like: "When I'm on the run / All I gotta do is dial 911."
The man is an unrepentant racist. In 2017 he spoke (and marched) at the Unite the Right rally in Charlottesville, Virginia. For a while, he was the tour manager for fellow troll Milo Yiannopoulos but reportedly got the ax for being too extreme. Even for Milo.
Before he was an alt. right rap musician, Baked Alaska did time cranking out content for the millennial meme factory Buzzfeed. His specialty was finding stuff on the now-defunct Vine social video platform to share on the Buzzfeed site, stuff with titles like "This Grandma Just Hit The Sickest Beer Pong Shot Of 2016."
Scott Whiteman, from the Boys' Bible Study podcast, worked at Buzzfeed with Gionet in 2016. He says that in hindsight, it should've been obvious that Trump would ride his social media infamy into the White House.
"One day I was looking at the front page of BuzzFeed," Whiteman says, "and it was something like seven of the main ten articles were Trump-related. This was just promotion. Like in rap music or reality TV, any of these other areas, somebody is just like a maniac, goes viral, and then because of that they have a platform forever."
According to Whiteman, there wasn't much about Gionet that stuck out when they both worked at Buzzfeed. He was just another rich kid from Alaska who had moved to Los Angeles with little more on than a vague desire to be famous. And his time at Buzzfeed, observing the Trump phenomenon, taught him just how to do that.
If Gionet loves cops, he certainly wasn't acting like it when he joined the mob that ransacked the Capitol on January 6, 2021. He even livestreamed the event, which wasn't too smart, considering that weeks earlier a judge in Scottsdale, Arizona barred him from leaving the state due to a misdemeanor assault charge.
In January of this year, Gionet was sentenced to six months for the December 2021 assault. He is currently awaiting trial for his part in the Capitol riot.
Here's a stripped-down live performance of "We Love Our Cops" for the true Alaskaheads: