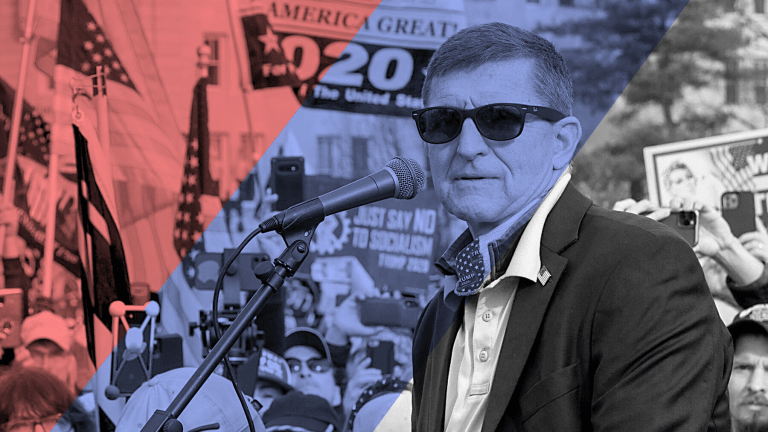 Profiles in Stupidity: Michael Flynn loses it (or perhaps never had it)
What causes a United States General to go full-on Q?
There's a television commercial that was ubiquitous when I was a kid. While a synthesizer droned in the background, a little white boy showered his father with questions at the Vietnam Veterans Memorial in Washington, D.C. "Why did we go to war, daddy?" The kid asked as the actor playing his father wordlessly responded with blank expressions meant to evoke extreme emotional anguish. "Will I have to go to fight in a war, daddy?" The answer to these pressing philosophical questions, according to the ad, could be found in a 25-volume series published by Time-Life books called The Vietnam Experience. The first book was free for ten days, but after that, you were hit with $14.95 every other month.
The commercial was narrated by Martin Sheen, so it's basically a sequel to Apocalypse Now.
Ads like this directed the country's collective Vietnam War trauma towards more overseas adventures. (The hawks referred to this postwar sheepishness as "Vietnam Syndrome," although "sane foreign policy" would be more apt.) It took a few years after the fall of Saigon for the country to get back on its war footing, starting with the four-day "war" with Grenada in October 1983. This subsequently led to one of my favorite-ever moments from Saturday Night Live:
Michael Thomas Flynn, born in 1958, was someone who took this Vietnam Syndrome stuff personally. After some years as a troubled teenager in Middletown, Rhode Island, Flynn ended up in the military, following in the footsteps of his father and his grandfather. As an intelligence officer assigned to the 82nd Airborne Division he wormed his way into the invasion of Grenada, where he operated a listening post to intercept Cuban radio communication. By 2009 he was a major general. A profile in the Chicago Tribune referred to him as "Afghan War's COO."
Michael Flynn had a reputation for playing fast and loose with the rules. As Dana Priest and Greg Miller wrote in the Washington Post in 2016:
Former U.S. officials said he was scolded after traveling to Pakistan in 2009 or early 2010 and revealing to Pakistani officials sensitive U.S. intelligence on the militant Haqqani network accused of staging attacks on American forces. U.S. officials said that the move was aimed at prodding Pakistan to crack down on the militant group, but that Flynn exposed U.S. intelligence capabilities that only helped Pakistan protect an organization it used as a proxy ally.

Flynn also came under investigation by the Pentagon because of an allegation that he had inappropriately shared highly classified intelligence with Australian and British forces. "I'm proud of that one," Flynn said in an interview. "Accuse me of sharing intelligence in combat with our closest allies. Please!"

The inquiry delayed but did not derail Flynn's ascent through the ranks. Always pushing for a deeper understanding of terrorist networks, Flynn persuaded Clapper in 2011 to let him form a team to reexamine the materials recovered from bin Laden's compound in Pakistan, searching for clues overlooked by the CIA. In 2012, Obama tapped him for one of the highest positions a military intelligence officer can attain, running the Defense Intelligence Agency.
In 2012, when President Obama made him Director of the Defense Intelligence Agency, Flynn so screwed up the assignment that he was forced to resign two years into his three-year term. "He characterizes his ouster as a political purge orchestrated by an administration unwilling to heed the warnings he was sounding about militant Islam," according to Priest and Miller. "Asked for evidence, he said, 'I just know!'"
After contentiously serving under Obama, Flynn was more than happy to embrace Trump, which only encouraged his crazier side. When Flynn was forced out of his role as Trump's national security advisor (after a mere 24 days on the job), the former general no longer even pretended to be a reasonable human being.
Or was it being forced out of the Trump administration that caused him to flip his lid? That's one theory that the blathering class has floated, although I find it hard to believe that his lid hasn't been flipped this entire time. And how would that explain his brother, General Charles Flynn? Like Michael, Charles has been implicated in the January 6 "coup," although he's yet to see any real fallout from his dalliance with extremists.
These days, Michael Flynn is a full-time conspiracy propagandist, having established a network of websites and corporate entities that promote far-right conspiracy theories, with the goal of domestic regime change. In fact, here's a handy chart, courtesy of The Intercept, where Candace Rondeaux writes:
The constellation of conspiracy-propagating enterprises reveals how Flynn's background in irregular warfare, signals intelligence, and psychological operations collided with the strange underworld of hacker culture, alternate reality games, and far-right extremist message boards and spurred the rise of a movement with a cult-like global following.
This last year has been a busy one for Flynn. In fact, here are a few choice links from when I started writing this around Thanksgiving:
Religion News Service: Flynn joined his fellow "patriots" at Rev. John Hagee's Cornerstone Church in San Antonio to promote a Handmaids Tale-style national religion (and, presumably, to raise money). "If we are going to have one nation under God, which we must, we have to have one religion. One nation under God, and one religion under God," he addressed the crowd. ("Attending Michael Flynn's call for 'one religion,' a who's who of the new Christian right," November 15.)


Alternet: In his new book Betrayal: The Final Act of the Trump Show, Jonathan Karl of ABC News details Michael Flynn's role in trying to overturn the 2020 election, in particular overtures the retired general made to Pentagon official Ezra Cohen-Watnick, who had served under Flynn at the NSA and DIA. Cohen-Watnick, who said that Flynn sounded "manic" when he took the call, refused to get involved. ("'This is not over!' Report details how Mike Flynn tried to bully a Pentagon loyalist into helping Trump overturn the election," November 16.)


Newsweek: Flynn recently appeared on The Alex Jones Show to discuss, among other things, the continuing "COVID tyranny" of the Deep State. "What we're gonna see is potentially another type of virus that's imposed on the public. And I hope that that's not the case, but I've seen some indications of that in some of the statements by some of these global elite type of people." ("Michael Flynn Ups the Conspiracy Ante, Says COVID Released by 'Global Elites'," November 24.)
Everett Stern, a former HSBC whistleblower and Republican challenger to Senator Pat Toomey, told the FBI and the House panel investigating January 6 that "two Flynn associates with the rightwing Patriot Caucus group enlisted his help in April in a scheme to seek potentially damaging information on two Republican members of Congress," according to The Guardian. Stern said that the Flynn associates wanted Stern's private intelligence agency Tactical Rabbit to dig up dirt on  Senator Pat Toomey and Representative Brian Fitzpatrick, two Republican politicians who supported Trump's impeachment.
It looks like we're only beginning to see just how important Michael Flynn is to those who would shred the Constitution and put a theocracy in its place.
When Flynn isn't being a shady political operative, he's also a demagogue-for-hire. If you'd like to see it for yourself, he currently has top-billing on the ReAwaken America Tour, a stadium tour of far-right and Q-aligned speakers that's been chugging around the country for several months now. Other names include Roger Stone, Alex Jones, and Sherri Tenpenny, an osteopath who believes that the COVID-19 vaccine transforms people into "transhumanist cyborgs." Somehow I got on their phone list, and every other day someone from a call center tries to entice me to buy cut-rate tickets. Apparently, they're having trouble filling the stadiums.
So at least there's that.