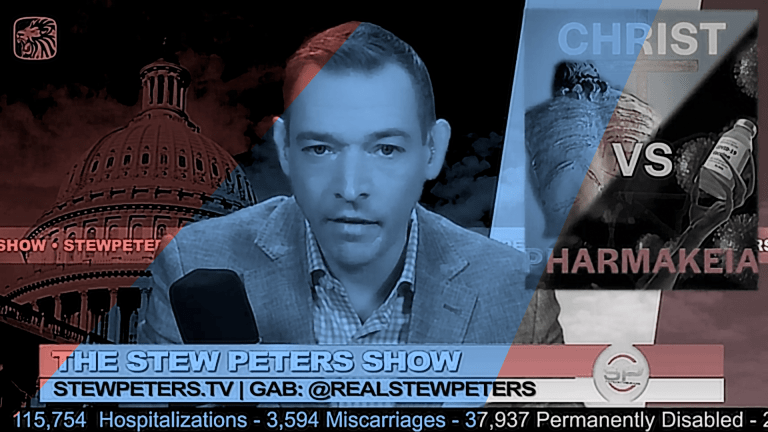 Profiles in Stupidity: Stew Peters in Uncanny Valley
From fake cop to pretend pundit in a few short years
Stewart Gordon "Stew" Peters has been likened to a more reasonable Alex Jones, but this just means that he wears a blazer and doesn't have quite as many on-screen screaming fits as the madman of Austin. He's reasonable the same way that David Duke was reasonable once he traded in the Neo-Nazi uniform for a three-piece suit.
The Stew Peters Show is the flagship of Red Voice Media, a conservative streaming startup devoted to fighting cancel culture (and, surely, making a buck in the process). Peters's specialty is connecting every single conspiracy theory out there to COVID-19. Take a look at some of these headlines:
Demonic Pedophiles Target Kids: Government Ad Promotes Pedophilia, Transgenderism & Vaxx On Kids
Frontline Nurses Take Stand: Hero RN's Rescuing Captives Being Held For Execution
Klaus Schwab's Social Contract: Vaccinate, Dominate, Crush & Exterminate "Useless Eaters"
Embalmers Discover Horror: Dr. Ruby Exclusive: Arteries Filled With Rubbery Clots
Curing Globalist Genocide: Rappha [sic] Medical Center Puts Prayer At The Center Of Successful Treatment
Alabama's Baptist Auschwitz: Hospital Killings: Death Cult Covid Carnage Continues
Military Vax Data Rocks DC: Catastrophic Injury Toll Exposed At Sen. Johnson Hearing
Vax Victims Overflow Morgues: Bodies Fill Morgues, Overflow Into Refrigerated Trailers
Nobody Talking About Dead Pilots: Military Command, Media, Airline Execs Ignoring Air Terror
Bioweapons & Killing Fields: U.S. Government Leads World in Calculated Genocide
And this is just a selection of his shows from last week!
Before finding his place near the top of the bottom of humanity, Peters was at the very bottom of the music industry, rapping under the name Fokiss. "I Never Made It," the first thing that came up when I googled him, is a treacly anthem about his lack of success. The track features what may be the least appealing hook in modern popular music: "I'm a failure, I never made it / my family is devastated."
Peters, all of 39 years young, began life in the Minneapolis-St. Paul, Minnesota metropolitan area. Besides blazing a trail for prematurely middle-aged-looking white rappers, he worked for years in the bail bond industry, where one newspaper called him "Minnesota's best-known bounty hunter." His old YouTube channel largely consists of the former rapper, in his play-cop costume, cruising around the Twin Cities railing against welfare recipients, gang members, people sagging their pants, and "ShitBags!" Watching these videos, it isn't hard to imagine him making the pivot to arch-conspiracist talking head.
As it happens, Stew is no stranger to the legal system himself. A public records search came up with a variety of infractions, including a 2006 arrest in Florida for impersonating a police officer, driving with a blue light on the hood of his car (strictly prohibited under state law), and armed robbery of less than $300.
Then there's the domestic abuse. In The Daily Beast, Will Sommer details an incident from 2021:
Around 1 a.m. on Feb. 19, Peters' wife called the police in Red Wing, Minnesota, claiming Peters was in a drunken rage after getting home from his bowling league. In an angry scramble to find his phone, according to an account from Peters' wife recorded in a police report, he had allegedly started to berate her and thrown household items, including boots and pillows, at her.

Arriving on the scene, police officers found Peters, who appeared to be intoxicated. His wife showed officers video she had recorded of her husband yelling at her and throwing objects at her, according to the report. Asked whether she was concerned Peters would attack her, she said, "That's the reason that I had to call you guys," and nodded yes, according to the report.

His wife told officers that her husband regularly became belligerently drunk, saying incidents like the one that night were, in the words of one officer on the scene, "happening too frequently." According to the report, his wife said she would normally lay low and wait until Peters passed out, saying she was afraid to call the police. She told police that on a recent trip to Florida, Peters had grown furious because he couldn't find his wallet, taking her own wallet and identification and making her feel "trapped."

"I don't know what he's capable of doing when he's drinking," she said, according to the report.
Legal problems or not, Stew Peters is on a bit of a roll as of late. His channel on Rumble has three hundred thousand subscribers, while his videos can get anywhere from fifty thousand to a half-million views. He may be just some schmuck playing news anchor in front of a green screen, but even those guys can get serious clout if enough people mindlessly click share, like, and subscribe on their videos.
We now live in a world where a talking head with only the slightest resemblance to an actual journalist can make a decent living spreading misinformation.
This sort of influence was supposed to be the blessing of social media, but it's clearly become social media's curse.