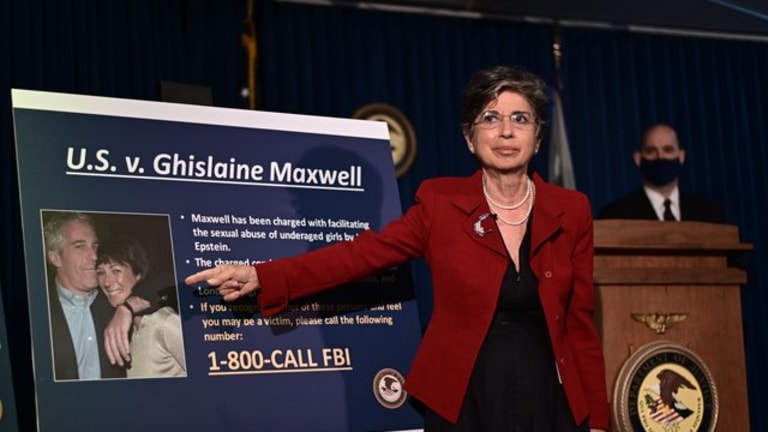 A Simplified Version of Evil: Ghislaine Maxwell Trial Begins
Jeffrey Epstein's majordomo has her day in court
It's hard to remember that far back, but there was a time when no one in the mainstream media was interested in the crimes of Jeffrey Epstein. It was left to independent researchers like Pearse Redmond, host of Porkins Policy Radio, to pursue the story.
With lawyers set to deliver opening statements in the USA v. Ghislaine Maxwell trial this morning, I figure it's as good a time as any to get Redmond on the phone and ask him what he hopes to learn from the trial. Here's an edited transcript of that conversation.
FAILED STATE UPDATE: As someone who's been closely following the Epstein saga for so long, what are the things you're anticipating will come up in Ghislaine Maxwell's trial? Or that you hope will come up?
PEARSE REDMOND: Having been hopeful so many times in the past and been let down, I'm hesitant to expect huge revelations. Following the little, sort of tit-for-tat motions and legal squabbles that have been going back and forth between Maxwell's lawyers and the prosecutors in the case, it doesn't seem like much of anything really big is going to come out.
The scope of the prosecutors' focus is really limited. I think it's four unnamed accusers who will testify under pseudonyms. It's 1994 to 2000, that time frame, and all that the prosecutors are going after Maxwell on is that she procured girls for Epstein to be abused. They're not going after her for sexual blackmail, they're not going after her money. You know, that's the big thing everybody wants to know: Where did Epstein get his money? Was he a spy? None of that is going to be answered, I don't think. That's not what the prosecution is going for.
So we know what not to expect. What will you be looking for?
Anything that comes out is potentially useful. I know, that's kind of a vague statement, but a lot of times there's going to be little bits and pieces of things that are going to come out that won't seem important. But if you're paying attention to all this, I think we might see little elements that will piece together larger parts of this picture, like details of the process where Maxwell allegedly coerced and procured underage victims and adult victims.
I kind of doubt Epstein is going to play nearly as large a role as many of us would think. My sense, from what's been out there in the news and the legal arguments that have been going back and forth, is that they won't try to prove that Epstein was abusing people. What they're trying to prove is that Maxwell facilitated this, that Maxwell procured these girls, and that she was giving them to Epstein.
In a case like this — especially a case like this, perhaps — there's a very narrow remit, as far as what the prosecution is going for. You know, they can't talk about blackmail networks or the Mossad or anything like that. It's down to forensics: What did this woman do to these poor girls?
Exactly. I mean, I don't know that this is going to happen, but Maxwell is trying to limit or block the introduction of Epstein's little black book. And the prosecutors don't want to turn this case into some sort of global investigation into everybody from Bill Clinton to Donald Trump to Bill Richardson to, you know, Dershowitz and Glenn Dubin. They have no intention of doing that. They just want to get their prosecution, which is what any prosecutor would want to do. I mean, if she is convicted, she's probably going to die in prison. That's what they're going to go for.
And I think you can even look at it from a slightly more conspiratorial angle, where there are too many prominent people involved in this, so they're not going to go for the jugular. It's somewhat circumstantial, but others came forward in New York City with claims of abuse. And I'm positive that Epstein had New York politicians, law enforcement in his pocket in much the same way that he had the Palm Beach police in his pocket. He certainly had government officials in the Virgin Islands in his pocket. The fact that we know less about this alleged behavior in New York and New Mexico leads me to believe that there's a much larger story there.
From looking at the different court cases and reading [victim] Virginia Giuffre's unpublished memoir, what really sticks out is that Epstein and his buddies were committing very mundane, run-of-the-mill, everyday abuse that is not very different from, you know, the local creepy pedophile in your neighborhood. They just happened to have more money, certainly, which gave them the ability to commit these crimes and cover them up. They were targeting the right people, people who were susceptible to high-control groups and abuse. They were using money. They were using shaming tactics. I mean, just textbook stuff.
The story doesn't have to be this big, complicated thing with pedophile networks of billionaire spies. It can actually be very mundane. I think this is an important lesson for people: It doesn't have to be this grand scheme, it can actually be a more simplified version of evil.