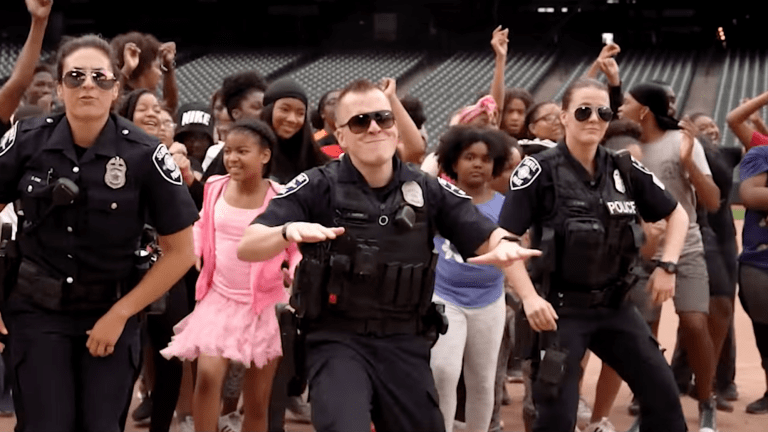 The Failed State Jukebox Police Lip-Sync Battle
In the wake of massive public backlash, the cop shops mount a charm offensive
Failed State Jukebox brings you some of the most audacious (and absurd) examples of far-right, populist, and dystopian pop music. And what can be more dystopian than police filming their own music videos for lame, family-friendly pop songs?
Check out more dystopian pop tunes on our Failed State Jukebox hub!
We live in a country where the police kill people with mind-numbing regularity. This sort of thing can be handled in one of two ways: Address the social ills driving the problem, or film choreographed dance routines and post them on social media. America's cops have thought about it long and hard, and they decided to go with option #2. 
Here are some of the best/worst.
HONORABLE MENTION

Oswego (New York) Police Department: The sleepy city of Oswego on Lake Ontario last made the national news in 2005 when Mayor John Gosek was arrested in a sting operation after giving a woman $250 to arrange a sexual encounter with two 14-year-old girls (allegedly). He resigned from office, but the case never went to trial. 
The Oswego PD isn't the best on this list, but its submission shows the great lengths that cops will go to whitewash their image. As a bonus, this video contains the worst Christopher Lloyd impersonation we've seen in some time. And we're sorry to say that the lip-syncing itself is rather flat.
Song: "The Power of Love" by Huey Lewis and the News
RUNNERS UP
Springfield (Missouri) Police Department: Before social media lip-sync battles, the city of Springfield was known for the lynching of Horace Duncan and Fred Coker by a white mob in 1906. These days, according to Police Scorecard, the police have killed 11 people between 2013 and 2020. That's higher than 58% of Missouri police departments.
Songs: "The Boys are Back in Town" by Thin Lizzy, "Man! I Feel Like A Woman!" by Shania Twain, "Stayin' Alive" by the Bee Gees
Las Cruces (New Mexico) Police Department: Las Cruces is one of the least remarkable cities in the southwest — this, despite being the second-largest in New Mexico and the birthplace of Anwar al-Awlaki, the American citizen assassinated by the government for his work with Al-Qaeda. The CIA followed that drone strike up with another that killed his 16-year-old son, an American who was by all accounts a harmless, normal teenager, just because it could.
Between 2013 and 2020, Las Cruces cops killed 13 people, which is higher than 96% of New Mexico police departments.
Song: "Should Have Been A Cowboy" by Toby Keith 
Salt Lake City (Utah) Police Department: This one seems oddly gender-bendy. And just plain odd, as it's about certain cops' sexual attraction to donuts. Between 2013 and 2020, SLCPD cops killed 14 people. In fact, based on population, a Black person was 12.7x as likely and a Latinx person was 0.9x as likely to be killed by police as a white person in Salt Lake City during that time period.
Song: "Wrecking Ball" by Miley Cyrus
THE WINNER
Seattle (Washington) Police Department: Before the death of George Floyd brought people out to the streets in 2020, Seattle Police brought out a cast of thousands for this 2018 lip-sync video. Between 2013 and 2020, the department killed 25 people — making it the winner of the Failed State Jukebox Police Lip-Sync Battle. "Based on population," according to Police Scorecard, "a Black person was 5.7x as likely and a Latinx person was 2.2x as likely to be killed by police as a White person in Seattle from 2013-20."
Song: "Downtown" by Macklemore and Ryan Lewis