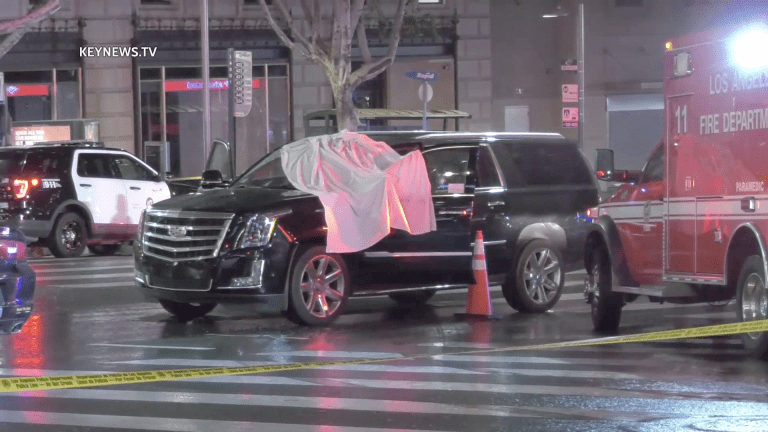 2 Killed in Los Angeles Shooting Spree, Suspect Fatally Shot (GRAPHIC)
A suspect on a shooting spree that killed 2 people was fatally shot by officers after a pursuit and hours long standoff.
WARNING: Video is classified as Graphic Content
Los Angeles: Three people were shot, two of whom were killed on Figueroa Street between Exposition and 7th Street on Tuesday, Apr. 27, 2021, at approximately 1:15 a.m.. A suspect in a white SUV was seen by California Highway Patrol driving northbound on Figueroa shooting into vehicles.
The first shooting at Exposition and Figueroa involved a man who was grazed on the face and back by the suspect. The second victim at Figueroa and 28th Street was in the Starbucks drive-through when they were shot and killed sitting in a blue Mustang. The third victim was an Uber driver at 7th Street and Figueroa in a black SUV who was also shot and killed. The interview with the Uber passenger at the third location, was to be picked up by the victim.
The suspect, who was located by Los Angeles Police Department officers, fired rounds at the officers pursuing him. The suspect finally stopped on the 91 Freeway at the Raymond exit after a successful spike strip deployment by LAPD and CHP officers in the pursuit. LAPD SWAT responded with two armored vehicles. After an hours long standoff, LAPD fired tear gas into the vehicle, at which point, the suspect fired at officers with the murder weapon, striking one of the armored vehicles. Officers returned fire, fatally striking the suspect. LA County Coroner was notified regarding the two deceased victims on Figueroa. No motive is known at this time, and the shooting victims appear to be random.
Each location is separated by NTSC Bars in the video.
​
​Zak Holman Senior Photojournalist, Key News Network
Keith Johnson Photojournalist, Key News Network
Jack Reynolds Photojournalist, Key News Network
Andrew Gonzalez Photojournalist, Key News Network
​