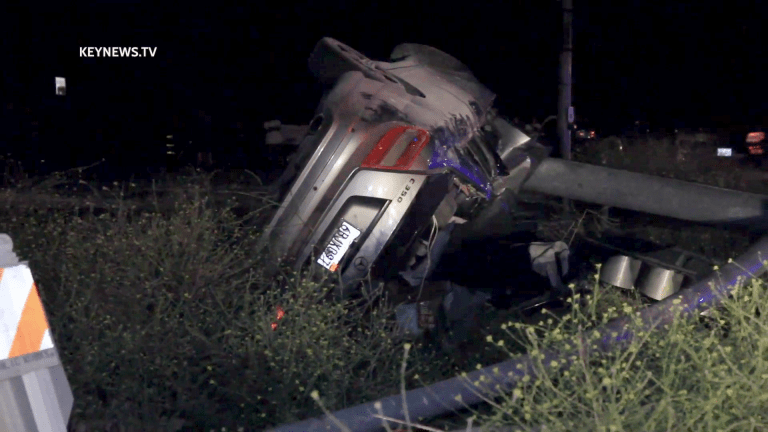 2 Suspects Suffer Major Injuries After Crashing into Pole During High-Speed Vehicle Pursuit
Two suspects suffered major injuries after crashing into a utility pole on Sierra Highway leading CHP officers on a high-speed vehicle pursuit Monday night.
Canyon Country: Around 9:00 p.m. Monday, May 17, 2021, a California Highway Patrol officer was patrolling the area of Agua Dulce when the officer intercepted the vehicle to conduct an enforcement stop. The suspect vehicle then took off leading CHP officers on a high-speed pursuit southbound on Sierra Highway approaching Santa Clarita, according to Officer Gavin Glauser with California Highway Patrol who was interviewed by Key News at the scene.
Upon approaching the intersection of Vasquez Canyon Road at Sierra Highway, the suspect vehicle lost control and collided with a utility pole, said Officer Glauser. According to the Key News photojournalist at the scene, an officer used a fire extinguisher after the vehicle impacted the metal pole. Los Angeles County Fire Department responded to the location. 
Officer Glauser said both suspects in the vehicle sustained major injuries and were transported to a local hospital. Both suspects are in custody at this point and the investigation is ongoing.
Oscar Sol Photojournalist, Key News Network