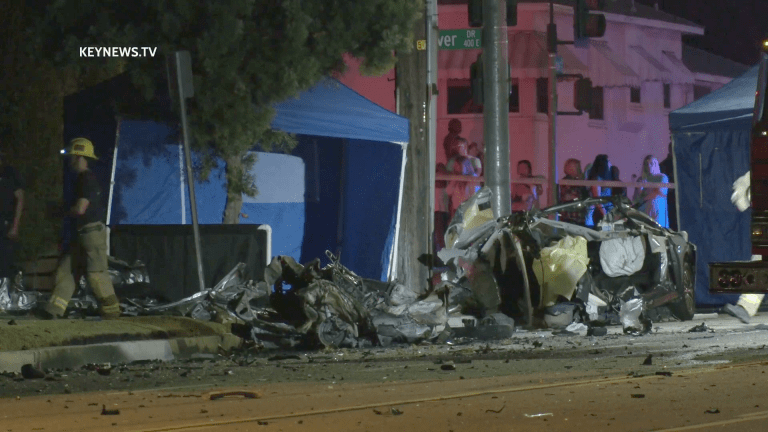 3 Killed, 2 Seriously Injured in Apparent High-Speed Racing Collision
Two vehicles that were apparently racing, collided with another vehicle leaving three dead and two seriously injured late Tuesday night in Burbank.
Burbank: Three people were killed in a high-speed collision on Andover Drive and Glenoaks Boulevard and two people were transported to a local trauma center in serious condition late Tuesday, Aug. 3, 2021.
Burbank Police officers and Burbank Fire Department paramedics responded to the location around 11:50 p.m. after receiving multiple reports of a traffic collision with a vehicle on fire, according to Burbank PD. Upon arrival, three people were located who had been ejected from a silver Volkswagen. The three individuals, two males and a female in their early twenties, were pronounced deceased at the scene from their injuries, according to Burbank PD. A fourth occupant of the Volkswagen had sustained serious injuries and was transported to a local trauma center.
The second vehicle involved, a gray Kia, was only occupied by the driver who sustained serious injuries and was also transported to a trauma center, Burbank PD reported. Two people in a Mercedes Benz, the third vehicle involved, were reported to be uninjured. 
Burbank PD said that the preliminary investigation has revealed that the Kia and Mercedes Benz were traveling northbound on Glenoaks Boulevard at a high rate of speed for several blocks and appeared to be racing. The Volkswagen was attempting to negotiate a left turn from southbound Glenoaks Boulevard to eastbound Andover Drive, when the traffic collision occurred. 
Witnesses at the scene said that the vehicles were driving at high speeds before the collision. The collision remains under investigation by Burbank PD Traffic Detectives. Anyone who may have witnessed the collision or has any information is asked to contact the Burbank Police Traffic Bureau at (818) 238-3100.