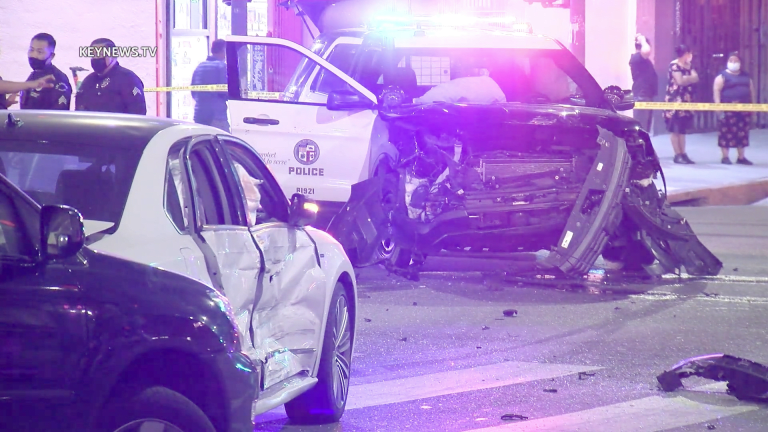 3-Vehicle Traffic Collision Involves LAPD Unit Responding to a Call with Lights and Sirens
LAPD officers responding Code 3 to a call were involved in a three-vehicle traffic collision on 8th Street and Union Wednesday night.
Westlake, Los Angeles: At approximately 10:40 p.m. Wednesday, May 12, 2021, Los Angeles Police Department Rampart Division officers were responding Code 3 (lights and sirens) to an unknown call when they were struck by another vehicle. The collision caused the responding LAPD unit to collide with a third civilian vehicle in the intersection. A total of three vehicles were involved.
Both officers were transported with minor injuries, along with one of the parties involved also with minor injuries, according to Sergeant Jesse Garcia with LAPD Central Traffic Division who was interviewed by Key News at the scene. The cause of the collision is under investigation by LAPD Central Traffic Division.
Witnesses to the collision may contact LAPD Central Traffic Division at (213) 486-0736.
Zak Holman Senior Photojournalist, Key News Network