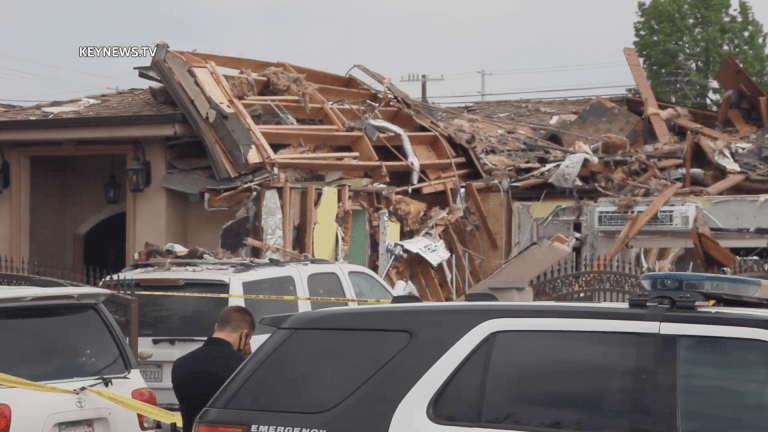 Aftermath of Home Explosion in Valley Glen
Investigation continues into the cause of Sunday's home explosion that leveled garage and sent 2 patients to hospital.
Valley Glen: In the aftermath of an explosion that severely damaged a home and impacted a neighborhood Sunday night, the Los Angeles Fire Department announced in their preliminary examination of the home that the explosion was not caused by a natural gas leak or a THC extraction lab. The inspection did find evidence of marijuana being grown in the garage area, which was leveled from the explosion. Investigators believe the equipment from this marijuana grow may have caused the explosion, according to LAFD. The Los Angeles Police Department is leading the investigation with support from the LAFD Arson and Counter-Terrorism Section. LAFD reported that the LA Department of Building and Safety is prohibiting any further entry. The residents in a total of 13 homes surrounding the incident were requested to evacuate, and seven homes sustained varying levels of damage from the debris but none were unsafe for occupancy, according to LAFD.
The Los Angeles Fire Department responded to the scene around 9:26 p.m., Sunday, Apr. 11, after receiving reports of an explosion on the 12700 block of West Archwood Street. Upon arrival, it was clear there was an explosion, but no sign of fire. LAFD immediately put operations in place to search, gather information on the number of occupants, and mitigate any hazards.
LAFD reported that a 59-year-old male patient was located outside the home and transported with critical burn injuries. At the scene, firefighters detected the smell of gas and worked to locate and secure the leak, according to LAFD. Crews were conducting a search operation in shoulder deep debris, when they found a second male deeply buried after hearing tapping sounds. Firefighters worked to safely move debris and extricate the 46-year-old male. He was alert and talking to firefighters, according to LAFD. The adult male patient was evaluated and transported to the hospital with non-life-threatening injuries.
A total of seven residents live in the home and the remaining five, consisting of two adult females and three children, were not injured. An adult female from a neighboring home requested medical attention and then declined transport to the hospital, bringing the total patients evaluated to eight, according to LAFD.
​
Oscar Sol Photojournalist, Key News Network
​