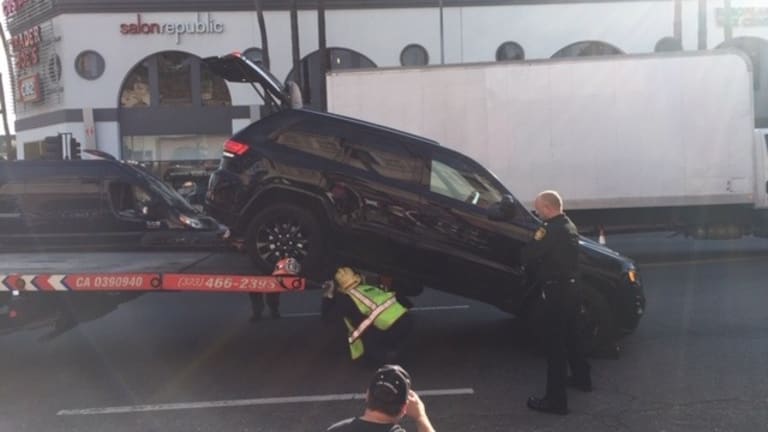 Cat Wreaks Havoc on Sunset Boulevard Afternoon Traffic
Los Angeles Fire Department saves petrified cat from under a car in the middle of traffic.
Los Angeles: On Wednesday, Dec. 11, 2019, at 1:17 p.m., LAFD was called to the 8700 Block of Sunset Boulevard for a cat rescue. A cat ran directly into Sunset Boulevard in front of Greenblatt's Deli, causing traffic congestion in the area as it hid under cars.
Before the arrival of LAFD, several people were in the road trying to save the cat that had crawled under a car and hid itself inside the wheel.
A good samaritan rescued the cat from inside the wheel, only for it to leap away from their grip and run underneath a nearby SUV belonging Hollywood Hills resident Mai Ottersen. According to Ottersen, the struggle to get the cat from underneath her SUV ensued for some time, with many people including Ottersen herself, attempting the rescue.
One man tried his best to get the cat, but was scratched every time he got close. Ottersen said it was "incredibly frustrating and scary...including lots of traffic."
​
​
Calls went out to LAFD and LAPD regarding the situation. Ottersen called AAA also for help. LAFD Engine 41 arrived on the scene, but were unsuccessful with first attempts at rescue until the AAA driver positioned his tow truck to lift the back end of the SUV enabling firefighters easier access to the cat.
​
​
LAFD was finally successful after two hours with four firefighters struggling to extricate the cat.
"It was pretty intense," Ottersen said.
​
​
The cat is at West L.A. Animal Services for anyone looking for this cat, or who knows the owner.
Photos courtesy of Mai Ottersen.