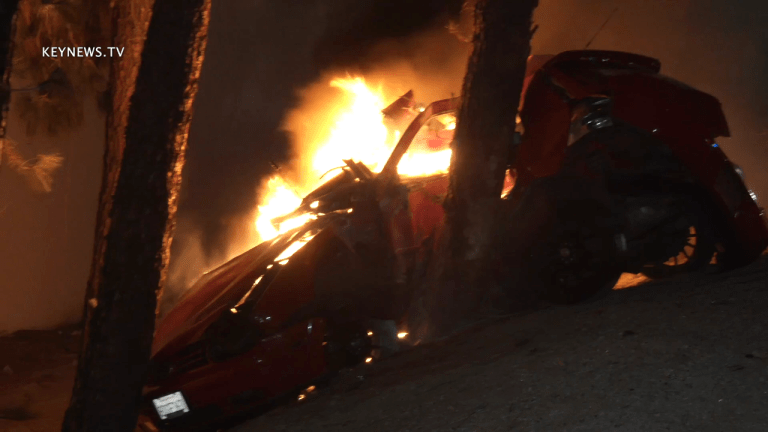 CHP Officer Injured in Pursuit that Ended in Fatal Fiery Crash off 405 Freeway
Suspect vehicle crashed into tree, then burst into flames during CHP short high speed pursuit.
North Hills: A vehicle pursuit ended in a fatal fiery crash off the 405 freeway Thursday, Jan. 14, 2021 around 11:32 p.m. California Highway Patrol was in pursuit of a vehicle that failed to stop while speeding in excess of 100 mph on the northbound 405 Freeway. The short pursuit that began at 11:30 p.m., ended when the vehicle exited the Roscoe Boulevard offramp and crashed into a tree trapping the suspect as the vehicle caught on fire. Two CHP officers with fire extinguishers, along with a good samaritan, were approaching the vehicle to aid the driver when the fire quickly spread, hampering their efforts to reach the driver. That's when the female CHP Officer injured her leg, according to California Highway Patrol Officer Casey Ramstead. The Los Angeles Fire Department responded to the scene to extinguish the fire that spread quickly to nearby brush and LAFD Paramedics transported the injured officer to a local hospital. CHP Officer Ramstead said the 17-year-old male suspect was pronounced dead at the scene. The vehicle was a 2001 VW, more than likely a GTI, according to CHP Officer Ramstead.
​
Keith Johnson Photojournalist, Key News Network