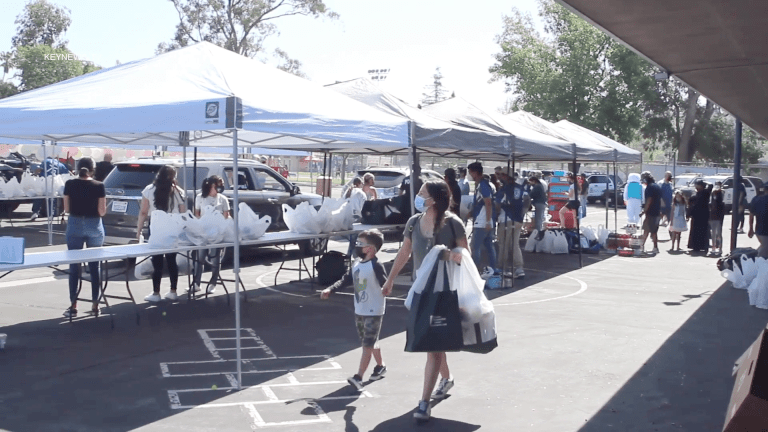 Combined Easter and Back-to-School Event Held at Pacoima Charter School
Filled Easter baskets and back-to-school materials were available to children who attended the Friday event.
Pacoima: On Friday, April 2, 2021, LAPD along with various community organizations, organized a combined Easter and back-to-school event at the Pacoima Charter Elementary School on the 11000 block of Norris Avenue. Rows of tables held bottles of refreshments, back-to-school materials and Easter baskets that included Easter eggs, candy, and stuffed animals all available to the children. LAPD Senior Lead Officer Luis Garcia who was interviewed at the event, said they wanted families to enjoy the event, to be outside, be safe from Covid, and to be together as families. Some families chose to walk in, following Covid-19 protocols, while others chose to wait in line and drive through. The Easter Bunny was also on hand for photo ops and to interact with children in vehicles driving through with their families.
The event started at 10:00 a.m. and ended at 1:00 p.m. SLO Garcia said they expected about 500 cars and a combined total of about 1000 to 1500 people.
​
Oscar Sol Photojournalist, Key News Network
​