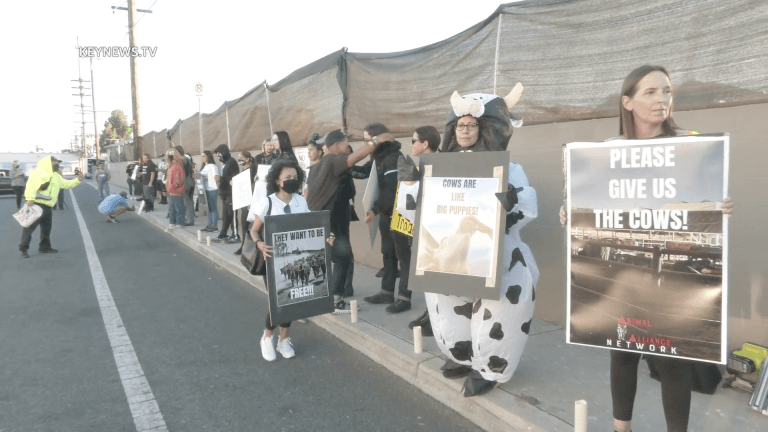 Crowd Gathers for Vigil at Slaughterhouse Where Cows Escaped in Pico Rivera
A vigil was held in support of cows' lives at the slaughterhouse location where around 40 cows escaped Tuesday evening.
Pico Rivera: At 7:30 p.m. Thursday, June 24, 2021, a crowd gathered for a vigil along the wall of a slaughterhouse in Pico Rivera on the 9500 block of Beverly Road where cows escaped Tuesday evening.
People lined up outside Manning Beef LLC, with signs expressing support of life and freedom for the cows. The location was brought to the group's attention after Tuesday's escape of around 40 cows that stampeded through the streets of a Pico Rivera neighborhood. Los Angeles County Sheriff's Department deputies, along with others from the beef company, worked to corral the cows into trailers to take them back to the slaughterhouse. 
Ellen Dent, organizer, said, "We want their freedom...we want them to be taken to sanctuaries. We have several sanctuaries lined up to come and get them." She went on to say,"We are absolutely prepared to take these cows and to make amends for this whole terrible situation that happened and everything that goes on in this place. We are out here today because the owner needs to know that we care about these cows' lives, and not just the cows that escaped from the slaughterhouse, but all the cows that come though this place...it's all of the cows that die here."
Ellen said it was their first vigil at this location. "The goal is to show we have support from the community."
"They deserve a chance to live...they deserve to be free," said Ellen.
Keith Johnson Photojournalist, Key News Network