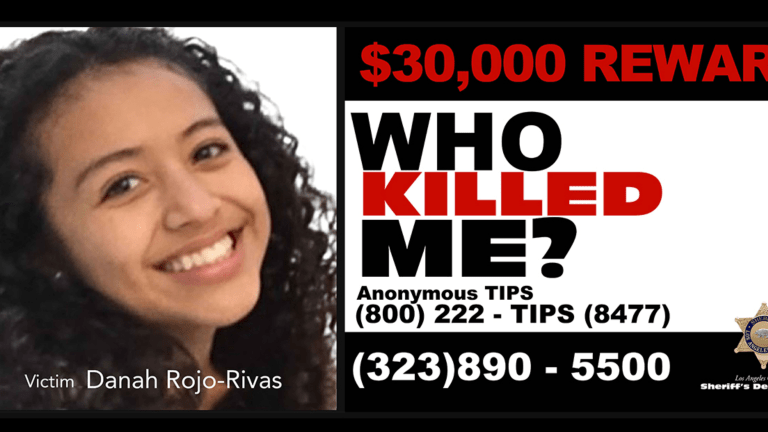 Danah Rojo-Rivas' Killers Are Still At Large, $30K Reward for Information
Three years ago on November 23, 2016, Danah Rojo-Rivas was tragically killed by a stray bullet in the city of Lynwood.
Lynwood,CA: During a press conference back on December 8, 2016, a $30,000 award was announced for information pertaining to the shooting death of 16-year-old Danah Rojo-Rivas. A little over three years later, detectives as well as Danah's grieving mother, are still reaching out to the public for any information regarding this tragic incident.
According to authorities, on the day before Thanksgiving, Wednesday, November 23, 2016, Danah was sitting behind her mother, who was driving the car, and her older brother was sitting in the front passenger seat. As Danah's mother was driving her children home from a church function, they stopped at a red light at the intersection of Euclid Street and Long Beach Boulevard, in the city of Lynwood, unaware of a car-to-car shooting that was happening right behind them on the driver's side of their vehicle.
One of the intended targets being chased in the shooting, ran behind the Rojo-Rivas car to avoid being hit by bullets. The shooter, at that point, released a succession of gunfire from a handgun as the intended target ran, during which a stray round entered the Rojo-Rivas car and struck Danah in the upper torso, fatally wounding her.
As Danah's mother tried to desperately flee the area, it was then she realized her daughter was shot and pulled the car over. The brother pulled Danah from the car to the sidewalk where a passerby called 911. Paramedics rushed to the scene, but Danah was pronounced dead from a grave wound to her torso. Danah's beloved dog, Luna, was with her in the car at the time of the shooting. When the door was opened to remove Danah from the car, the frightened pet darted out and ran across Long Beach Boulevard where it was hit and killed by a passing car.
​
​
Danah's distraught mother spoke lovingly of her daughter at the press conference in 2016. She spoke of cherished memories, and the kind of daughter Danah was. "My daughter was an angel... her love reached a lot of people."
No descriptions of the suspect(s) have been released.
Detectives, along with Danah's mother and family, are asking anyone with any information at all, to please contact Sheriff's Homicide Detective Adam Kirste or Detective Sergeant Robert Gray at (323) 890-5500. If you prefer to remain anonymous, please call "L.A. Crime Stoppers" at (800) 222-TIPS (8477), or use the website. http://lacrimestoppers.org
​
​
Photo from 2016 Press Conference
​
​
​