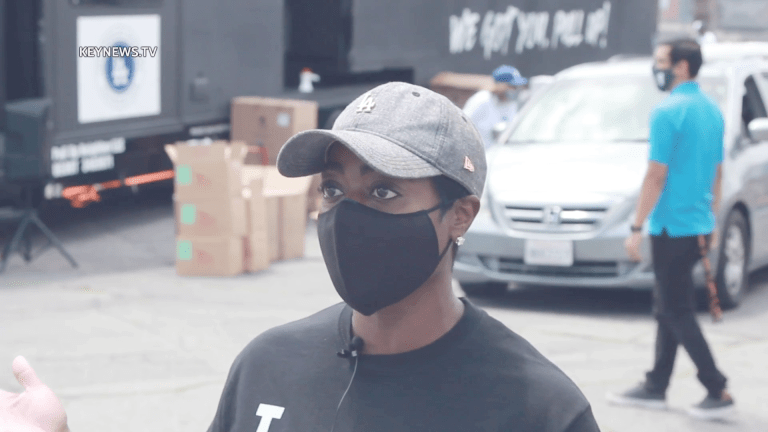 Dodgers Shirts, Food Distribution and More at Mid Valley Family YMCA
L.A. Dodgers Foundation and partners are on a 10-stop tour to support communities recovering from pandemic.
Los Angeles: On Saturday, Apr. 24, 2021, at 1 p.m., the Los Angeles Dodgers Foundation in partnership with Pull Up Neighbor organized the second stop of a 10-stop tour at the Mid Valley Family YMCA aimed at supporting communities that are recovering from the impact from the pandemic.
Nichol Whiteman, Chief Executive Officer for the Los Angeles Dodgers Foundation, spoke with Key News at the event. The 10-stop tour is open to the public and will take place throughout the Greater Los Angeles area. Whiteman said the event is announced on social media every week leading up to the next event that provides food, water, hygiene essentials, books, shirts and clothing, and other Dodgers goodies.
Many partners and sponsors are supporting the tour and Whiteman expressed gratitude to them all. She also said 3.8 million meals were provided since the pandemic hit, and 2.2 million in In-Kind donations. You can find the Los Angeles Dodgers Foundation on Facebook here.
​
Oscar Sol Photojournalist, Key News Network
​