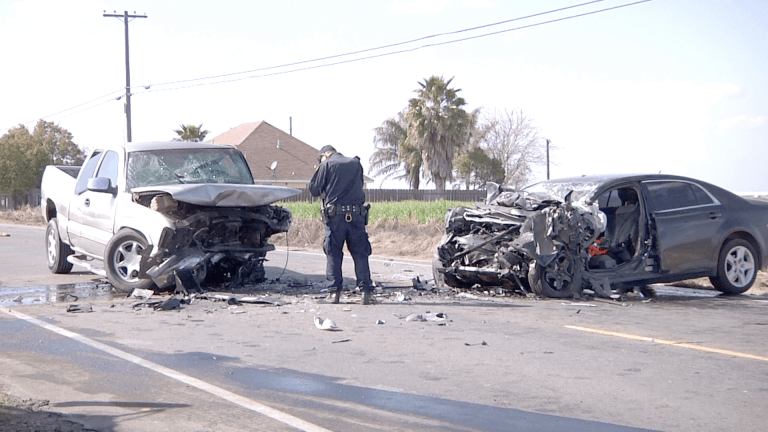 Double Fatal Crash in Stanislaus County with CHP Officer Interview
Both drivers pronounced dead at the scene of a head-on collision on West Main Street.
Stanislaus County: California Highway Patrol Modesto office responded to a collision involving a Chevy Silverado pick-up truck and a Chevy Malibu sedan at around 12:30 p.m. Tuesday, Mar.9, on West Main Street, west of Crows Landing. Both drivers were pronounced dead at the scene by AMR. Authorities investigated the crash and the road was closed for several hours. Modesto CHP Officer Paul Camara granted an on-camera interview at the scene of the incident.
The drivers were the solo occupants in the vehicles when the collision occurred, CHP Officer Camara confirmed. It is not known how the collision occurred at this time until evidence is documented - whether drugs or alcohol had an impact on the collision - but what is known from the initial evidence is that the truck was heading eastbound on West Main and the sedan was heading westbound at which point one of the vehicles went into the other lane and collided head-on, according to CHP Officer Camara. He went on to say there was a witness who rendered aid to one of the parties - a Stanislaus public works car, not involved in the collision, was doing a spraying operation to mitigate weeds. It was driving eastbound on West Main approaching Crows Landing with all its safety lights working spraying the weeds, and he heard a collision behind him, looked back and saw that a collision had occurred.
CHP Officer Camara also said West Main Street is a well-travelled community County road with a single lane in each direction. It's one of the main roads to I-5 that connects to Turlock.
​
Gaby Muro Photojournalist, Key News Network
​