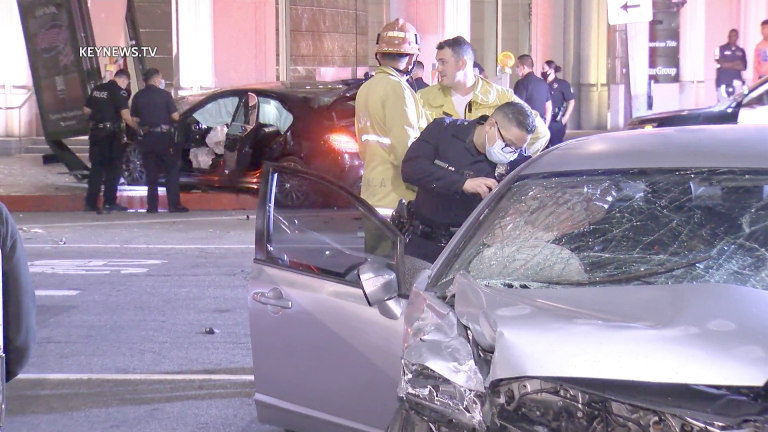 Downtown Los Angeles Car to Car Shooting Causes Collision with Another Vehicle
The driver of a black sedan fleeing from a shooter in a vehicle, ran a red light and crashed into a vehicle in the intersection of Figueroa and 8th Street late Wednesday night.
Los Angeles: A two-vehicle traffic collision was the result of a car to car shooting late Wednesday, Aug. 18, at the intersection of 8th Street and Figueroa. A black sedan was fired upon by an unknown suspect vehicle and as the victim fled through a red light westbound on 8th Street from the shooter, a collision occurred with a silver sedan heading northbound on Figueroa.
Los Angeles Police Department Central Division received multiple calls that overlapped of either shots fired or a traffic collision at 11:45 p.m.. Sergeant Ahlemeir of LAPD Central division told Key News at the scene that when officers arrived, they discovered a collision involving two vehicles and officers learned from one of the occupants of the cars, that he was being chased by another vehicle that was shooting at him. 
Sergeant Ahlemeir confirmed that bullet casings were located about a block away from the location of the collision. The female driver of the vehicle that was struck by the fleeing vehicle, was injured and transported by Los Angeles Fire Department paramedics to a local hospital in unknown condition. The 12-year-old passenger with the female driver did not sustain any injuries. The person who was fleeing from the shooter did not suffer any injuries from the collision.
There is no suspect description at this time. Witnesses in the area of Flower and 8th Street, or Figueroa and 8th Street around 11:45 p.m. Wednesday, can contact LAPD Central division at (213) 486-6606.