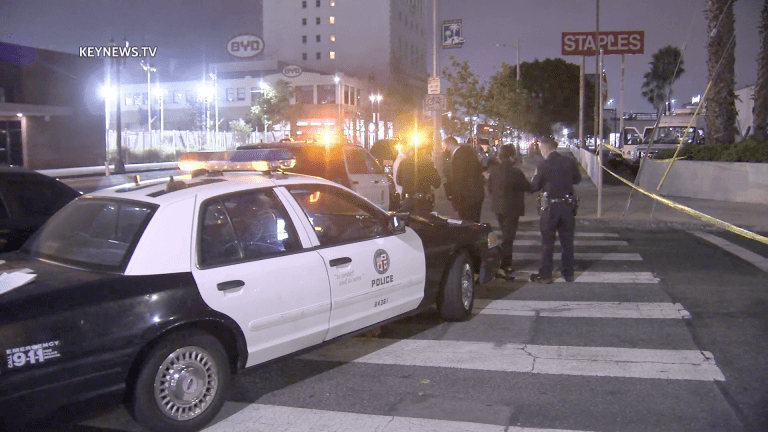 Downtown Los Angeles Road Rage Homicide
Detectives are looking for a female suspect who allegedly fatally injured a man with her vehicle during an apparent road rage incident in downtown Los Angeles Thursday evening.
Los Angeles: A man was killed at approximately 6:30 p.m. Thursday, Sept. 2, when he was launched from a vehicle during an apparent road rage incident. The victim and suspect were involved in a minor traffic collision in the area of 17th Street and Broadway - a "fender bender accident," according to Detective Juan Campos from Los Angeles Police Department Central Traffic Division at the scene. Both parties stopped to talk and then for unknown reasons, one of the drivers, a female in her 20's, fled the scene and the victim gave chase in his vehicle.
According to Detective Campos, the drivers stopped around 18th Street and Figueroa, when the suspect engaged the victim and he ended up on the suspect's car. The suspect then drove northbound on Figueroa from 18th Street at a high rate of speed with the victim on the hood, made a quick left turn on 17th Street launching the male victim off the hood onto the street. 
The victim was transported by Los Angeles Fire Department paramedics to a local area hospital where he succumbed to his injuries. Los Angeles Police Department Central Homicide Division is handling the investigation.
This was not a "clear cut" collision, Detective Campos said. There were some intentional acts that occurred during this incident.
The female suspect is driving a silver 2013 Kia Optima. There is no further information according to Detective Campos, who urges anyone who witnessed this incident to contact LAPD Central Bureau Homicide Detectives at 213-833-3735. Those who wish to remain anonymous may contact Crime Stoppers at (800) 222-TIPS (8477) or on their website here.