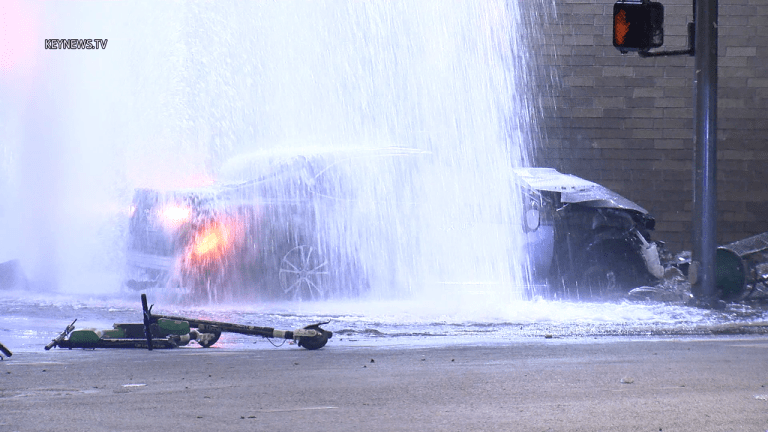 Driver Dies After Crashing into Police Station, Hitting Pedestrian and Hydrant
Driver killed after crashing car into LAPD Central Division, shearing hydrant, and striking pedestrian.
Los Angeles: One person was killed in a fatal crash Saturday morning at 3:05 a.m. at the intersection of 5th and Wall. The involved vehicle remained at scene after striking and sheering a hydrant at the location.
According to Lt Jake Bushey, LAPD Central Traffic Division, the back gate officer at Central Sation heard the traffic collision. A solo vehicle struck a pedestrian coming westbound on 5th, sheered a fire hydrant, then struck the north wall of Central Police Station.
Several bystanders at the scene removed the driver from the vehicle and attempted to render aid until the paramedics arrived, said Lt Bushey. LAFD paramedics arrived a short time later. Unfortunately, the driver was pronounced dead at the scene.
The pedestrian sustained minor injuries and was transported to a local hospital. The pedestrian was reported to have been asleep on the sidewalk when the collision occurred.
Lt Bushey said based on the evidence of the vehicle, it does appear speed was a factor. Central Traffic Division is investigating the collision.
​
​
Zak Holman Photojournalist, Key News Network