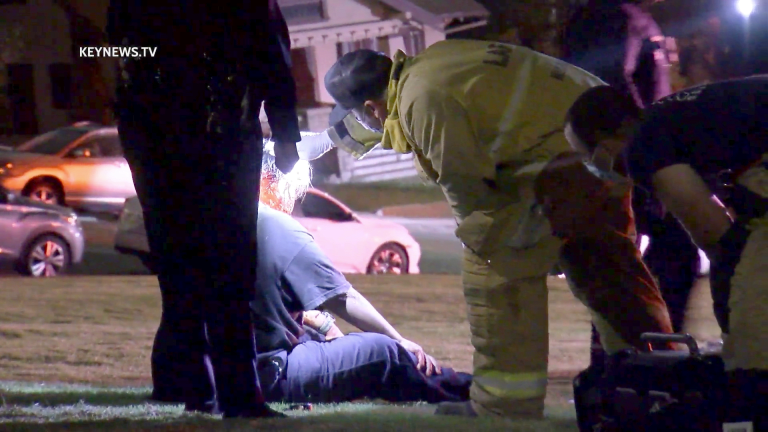 Echo Park Male Victim was Struck in the Head, Then by Vehicle (GRAPHIC)
A male victim was allegedly struck in the head, then by a vehicle as he walked on Everett Street early Thursday morning where a fight was occurring.
WARNING: Video is classified as Graphic Content
Echo Park, Los Angeles: A man was in serious but stable condition early this morning after he was allegedly struck by a crowbar and then by a vehicle. A group of people were involved in a fight on the 900 block of Everett Street on Thursday, May 13, 2021, at approximately 12:49 a.m. when the incident occurred. 
The male victim was walking in the street when he was allegedly first struck by a female with a crowbar, and then struck by a vehicle driven by a male. He was transported to a local area hospital by Los Angeles Fire Department paramedics with injuries to the back of his head and upper extremities. Los Angeles Police Department Central Division officers quickly located and began following the suspect vehicle.
The suspect vehicle, a black sedan, was stopped near the intersection of Palo Alto Street and Glendale Boulevard. A female and male occupant of the suspect vehicle were taken into custody. The female suspect was also transported to a local area hospital suffering from unknown injuries by LAFD paramedics. LAPD Central Division is handling the investigation. Locations in the video are separated by NTSC Bars.
Andrew Gonzalez Photojournalist, Key News Network