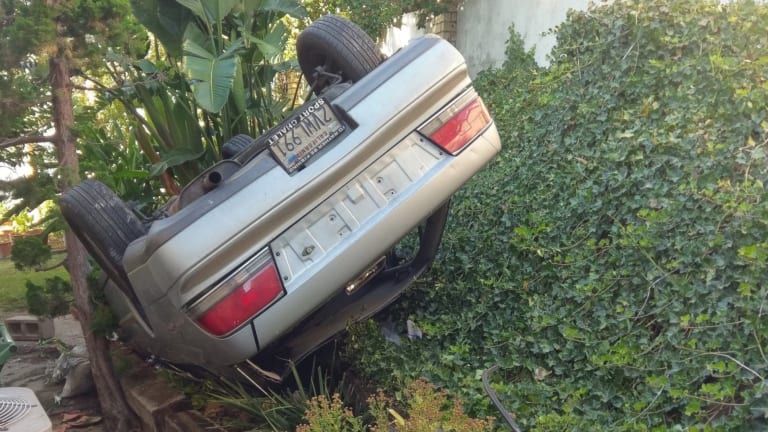 Elderly Man Overturns Sedan Near Side of Home
An elderly man crashed his vehicle ending upside down at the side of a home.
Hollywood Hills, CA: At 5:34 p.m., emergency resources were dispatched to a car crash on Skyline Drive in the Laurel Canyon area of the Hollywood Hills.
​
​
​
Crews arrived at scene and located a silver Nissan Maxima which had overturned and came to rest on the side of a home at the location. Skid marks were seen in the driveway at the T-intersection through the entrance to the home. The vehicle came to rest overturned at the narrow side of the home between a neighbor's cement wall and the garage.
​
​
Neighbor Melanie Kirschner, whose fence and wall were damaged by the accident, said, "The driver of the sedan is an elderly man who works at the Mulholland Tennis Club. He crawled out of the car and was taken to the hospital."
The elderly driver was transported by private auto to a local area hospital. His condition at this time is unknown. The homeowner was home, but not injured.
​LAFD Engine 97 was at the scene stabilizing the vehicle on the hillside. LAPD West Traffic division units were also on scene.
Any additional information on this incident will be updated.​
​