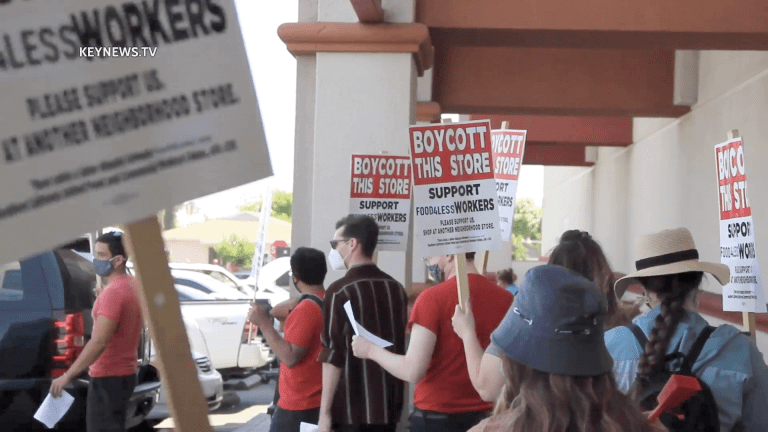 Workers Along with Community Members Held Demonstration to Boycott Food4Less
Food4Less workers, along with community members, demonstrated to boycott the store for a better contract with better wages from the parent company, Kroger.
North Hollywood: A circle of workers from the store along with support from members of the community, demonstrated in front of the entrance of the Food4Less on the 8000 block of Webb Avenue, Thursday, May 27, 2021, at 2:00 p.m. calling for a boycott of the store and support of the workers as they chanted in unison and held placards.
Key News interviewed Food4Less worker Susan Hernandez at the demonstration, who works multiple positions in the store. She said the workers have been working without a contract since June 7, of 2019, and the workers asked for an extension throughout Covid, and (they) started back at negotiations the beginning of January, but the company doesn't want to budge. 
Susan says the company gave hazard pay for only a month and a half (to the workers) and then took it away. For around nine to ten months, they were working without hazard pay. She feels the company - parent company of Food4Less is Kroger - is not giving them a proper wage; there's now inflation, and the cost of living has increased. "We're fighting for a better contract with better wages basically," said Susan.
Oscar Sol Photojournalist, Key News Network