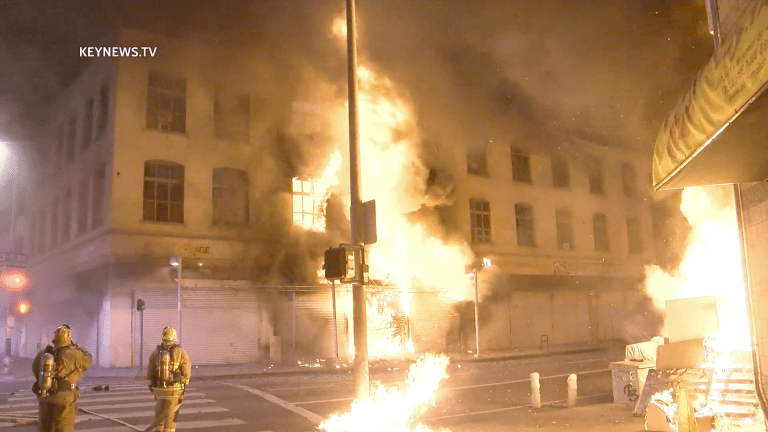 Firefighters Battle Major Emergency Structure Fire in Downtown Los Angeles
Los Angeles Fire Department battled a Major Emergency structure fire with small explosions on East 3rd Street early Tuesday morning.
Los Angeles: A large three-story commercial building was found burning at approximately 1:50 a.m. Tuesday, June 8, 2021. Explosions could be heard from blocks away. A crew of 150 firefighters battled the flames and prevented the spread of fire to other nearby buildings.
When the Los Angeles Fire Department arrived on the 200 block of East 3rd Street, there was heavy fire visible and a cacophony of small explosions with a large number of pressurized gas cylinders littering the street, according to LAFD. Flames from the burning building and/or canisters appear to have ignited tents and debris in a homeless encampment across the street, as well as spread within the structure to involve all three floors of the fire building, ultimately burning through the roof.
According to LAFD, the century old 23, 790 square-foot, three-story masonry building housed five businesses on the ground level, with two floors of commercial storage above. Tenants in a nearby modern six-story retirement community were allowed to stay in their homes. 
LAFD is expected to remain at the scene throughout the day. The cause of the fire is under investigation.
Zak Holman Senior Photojournalist, Key News Network 
Jack Reynolds Photojournalist, Key News Network