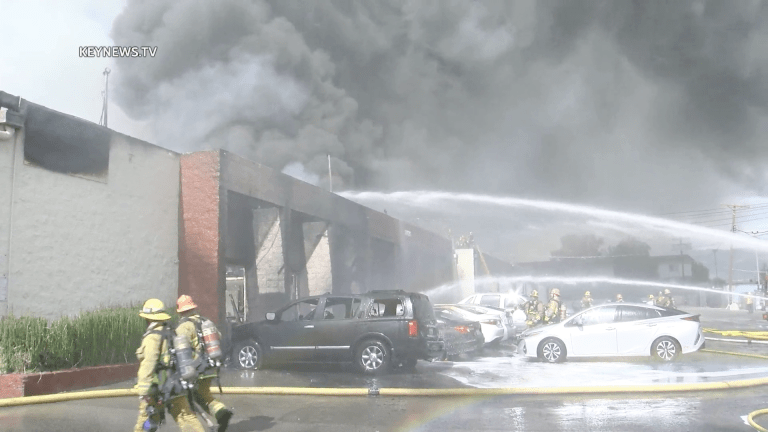 Firefighters Battle Major Emergency Structure Fire in Canoga Park
Firefighters battle a structure fire that appears to be a marijuana grow operation in Canoga Park on North Canoga Avenue Monday afternoon.
Canoga Park: Los Angeles Fire Department firefighter/paramedics returning from an emergency in their ambulance around 12:18 p.m. were first to notice and report a well developed structure fire in a 50' x 100' one-story commercial building that appears to be a marijuana grow operation on the 8400 block of North Canoga Avenue in Canoga Park. Explosions noted from within, and nearby vehicles threatened. One civilian is being assessed for apparent burn injuries by those first arriving firefighter/paramedics as defensive firefighting operations are now underway, according to LAFD. 
With 137 LAFD Firefighters now assigned in defensive firefighting operations, this fire has escalated to Major Emergency status, with as many as three civilian patients currently being evaluated for injury (at least one reported to be burned), according to an LAFD update. No evacuation. Canoga Avenue will remain closed between Roscoe Boulevard and Parthenia Street until LAFD operations are complete, unknown duration. Motorists, expect congestion and delay, avoid the immediate area and consider an alternate route. Detours are readily available. Monitor traffic reports on news radio.
This is a developing story and will be updated when more information becomes available.