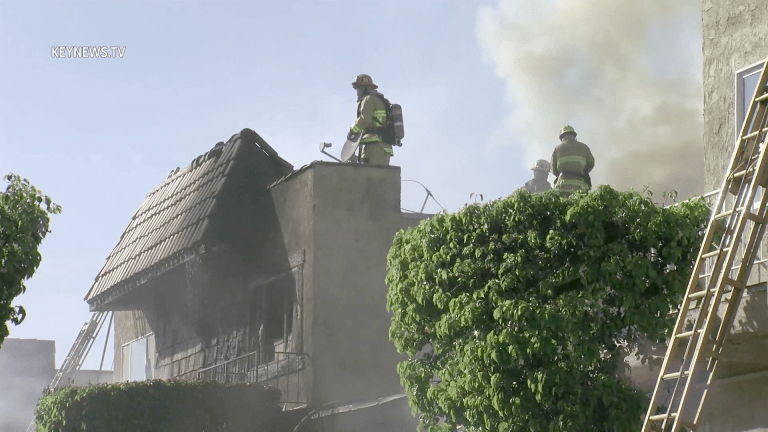 Firefighters Battled Condo and Adjacent Apartment Building Fires
Firefighters battled the original fire as well as the exposed adjacent building on Cedros Avenue Friday afternoon.
Panorama City: At 2:52 p.m. Friday, Mar.5, the Los Angeles Fire Department responded to a structure fire on the 8800 block of N. Cedros Avenue. When crews arrived, fire was showing on the second floor of a condominium building with 2-story units. Firefighters took to offensive mode to fight the fire. According to LAFD, the fire in the 2-story condo was exposing the adjacent apartment building which had smoke in the attic and possible fire in one unit. LAFD then requested additional resources. The fire was now in units in two separate buildings causing LAFD to transition to a multi-branch operation- branch one being the original fire.
Firefighters were also involved with any necessary evacuation vs sheltering in place for building occupants. By 3:25, LAFD reported that firefighters made good progress against the original fire, but were battling a running attic fire from the roof of the exposed building. Knockdown was achieved by 96 firefighters in both buildings in one hour and 11 minutes, according to LAFD at 4:03 p.m.
Crews continued to ensure there were no hot spots in the walls and assessing the level of damage to the units in both buildings. The needs of the displaced occupants were addressed. No injuries were reported.
Red Cross Los Angeles said via Twitter on Saturday, that they are continuing to support residents affected by the fire ensuring they have food, water, and a safe place to stay as they begin their recovery. If you were affected by the fire and still need help, please call the Red Cross disaster assistance hotline at (800) 675-5799.
​
Zak Holman Senior Photojournalist, Key News Network
​
​