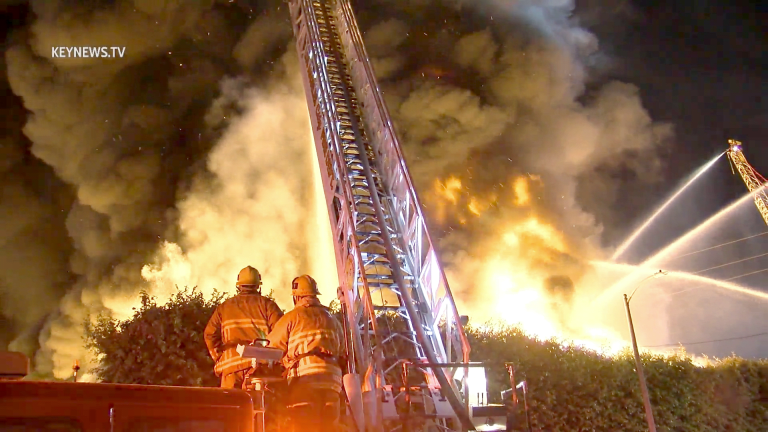 Firefighters Battled Major Emergency Structure Fire in Central-Alameda
144 firefighters in defensive posture extinguished the bulk of the flames after 1 hour and 48 minutes.
Los Angeles: The Los Angeles Fire Department responded to a reported structure fire at 3:39 a.m. Tuesday, Mar. 2, on the 2700 block of S. Long Beach Avenue in the Central-Alameda area of South Los Angeles. When crews arrived, they found heavy fire coming from the one-story 21,711 square-foot commercial building, according to LAFD. The business at the location was a textile company. As the fire progressed, it was updated to a major emergency structure fire. According to LAFD, 144 firefighters waged a defensive battle against the flames. Ladder pipes and large hose lines were set up along the perimeter, but leaving room for a potential collapse zone due to the heavy fire load.
The bulk of the fire was extinguished after one hour and 48 minutes, according to LAFD. As of 5:27 a.m., there were still hot spots within heavy debris. Fire companies remained on the scene for an extended period of time to overhaul, and LAFD Heavy Equipment crews assisted with safely moving the debris to access those pockets of heat, according to LAFD. There were no reported injuries. LAFD Fire Investigators with the Arson/Counter Terrorism Section, were at the scene to investigate potential causes of the fire.
​
Zak Holman Senior Photojournalist, Key News Network
​