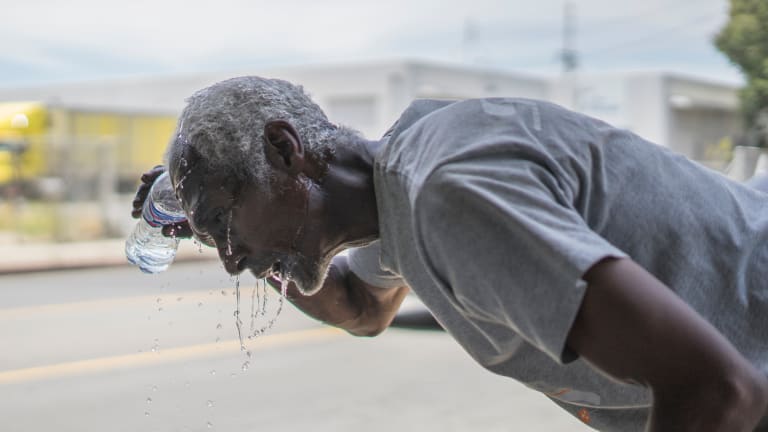 Good Samaritan Thinks of Homeless First During Heat Wave
Pacoima resident brings ice to homeless during heat wave.
​Pacoima, June 11, 2019: Under the 118 freeway on Bradley Avenue, north of Paxton Street, good samaritan Ludareys Harris passes out ice to the homeless this day of 100 degree heat. Harris, who is a Pacoima resident, took time off from work to buy ice and bring it to homeless in the area.
​
"It's a real hot day out, and they need it, they're human beings just like us," Harris said. "I saw the news about the heat wave and the first thing that came to my mind was everybody here." Harris plans on going back with more ice to help as many as she can.
Dwayne Pierfax, 62, one of Pacoima's homeless, is doing all he can to survive the heat wave. The needs of the homeless are especially highlighted during heat waves. Dwayne is frustrated with the city and stated he's trying to work with them on housing.
"They don't care about this," Pierfax said, his voice riddled with frustration. He went on to express the need for waste bins for trash, and porta-potties to keep human waste off the streets. Both issues are deep concerns to Pierfax. He speaks for many in the area.
​
David Ortiz, Public Information Officer for Los Angeles Fire Department, possesses a wealth of knowledge regarding our brutal heat waves, had this to say:
"Typically, during a heat wave, we will see a rise in number of people with heat emergencies," Ortiz stated. "Try to get work done earlier if you have to do work outdoors, make sure you're hydrated, check in on the elderly and very young, and make sure they're hydrated as well, and when possible, stay in an air-conditioned location. If you don't have one, check with Department of Parks and Recreation, they have sometimes locations where you can stay in an air-conditioned room. Make sure the pets are drinking enough water, and also if you have employees that do yard work, roofers, etc., that they're getting their work done earlier in the day. If you have a heart condition, respiratory problems, check in with your doctor and see if you have to take any additional medications or change your prescription with medications you normally take, and how you can safely increase your water intake. Monitor your hydration and try to get your work done early, and monitor your pets, the elderly, and children. It's also a good time to remind people to make sure vegetation is cleared around your home, preferably not on an extremely hot day you're not doing this work, but it reminds us that as we get closer to fire season, it's time to make sure the vegetation is cleared away because the hotter the temperatures, the more active fire activity we may have."
Regarding staying cool, Ortiz suggests wearing lighter colored clothing when you're out in the sun as it tends to reflect and not absorb as much heat, and don't forget a hat can also help with keeping cool.
​
​
​When asked about additional concerns for the upcoming fire season in light of all the rain SoCal has experienced in recent months, Ortiz replied, "This spring has actually been cooler than the past years, but because of the increased rain, we have seen a larger crop of grass, and then added to that the dead vegetation that we have out there from the prior drought, it does raise the potential for brush fires slightly more."
​Ortiz went on to state how important it is to take care of the brush around homes. "We're reminding people to make sure you follow the requirements for the jurisdiction where you live so that different fire departments may have different requirements for clearing the vegetation. Make sure ornamental vegetation is cleared away from your roof line because typically during a brush fire, that's where we get embers flying in and through the attic space. Time to review evacuation procedures if you live in the hillside community where brush fires are prevalent, and make sure you have a "ready-to-go" plan."
​The heat wave is due to break this evening with cooler temperatures forecasted for the rest of the week.