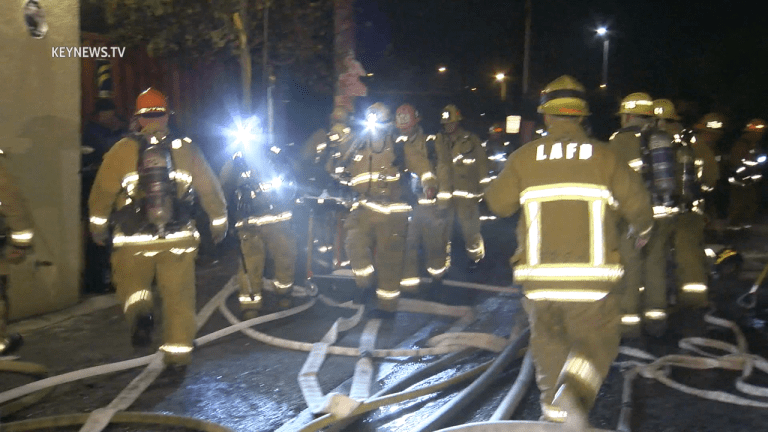 Greater Alarm Structure Fire Injures Firefighter in Hyde Park
160 firefighters fought the Greater Alarm fire and defended an adjacent commercial building.
Hyde Park: LAFD responded to a structure fire on the 4400 block of S. Crenshaw Boulevard at 12:24 a.m. Wednesday, Jan.20, 2021. Fire was through the roof of the two-story commercial building when firefighters arrived. Due to heavy fire on both floors and difficulty accessing the seat of the fire, LAFD transitioned to a defensive operation to battle the blaze. One firefighter sustained non-life-threatening injuries and was transported to the hospital.
The fire was at Greater Alarm status with 160 firefighters at the location. Crews prepared master streams with ladder pipes and large diameter hand lines. According to LAFD, firefighters defended a three-story commercial building adjacent to the fire. The fire extended from the original unit into the second attached occupancy. LAFD Arson section is at the location to conduct a cause investigation per protocol for a major emergency structure fire. The operation will continue through the night.
The firefighters extinguished the fire in 90 minutes.
​
Zak Holman Photojournalist, Key News Network