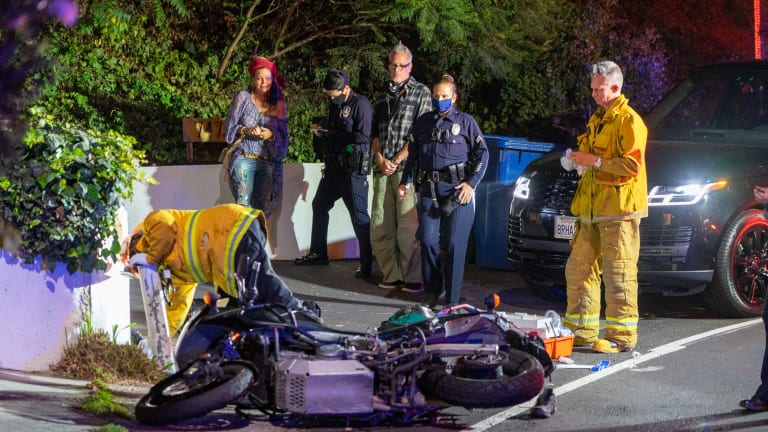 Gun, Ammo Discovered After Motorcyclist Crashes in Hollywood Hills
LAPD discover a gun in the street and ammo in the backpack of a motorcyclist who crashed on Mulholland.
Los Angeles: At 8:45 p.m. Sunday, July 26, 2020, LAPD North Hollywood Division, along with Valley Traffic Division, responded to the scene of a solo motorcycle accident on the 7400 block of Mulholland Drive near Woodrow Wilson Drive, west of Cahuenga Pass. A civilian reportedly rendered CPR to the injured motorcyclist as police were arriving at the location.
According to a Key Photojournalist at the location, the motorcyclist appeared to be heading westbound on Mulholland trying to navigate a left turn when the impact into a pole took place. Skid marks were present on the ground. Authorities found a gun on the street near the unidentified male victim of the crash. Key Photojournalist observed extended capacity Glock magazines being placed on a patrol car that were discovered in a military-style backpack the motorcyclist was wearing. Two handcuffs were also discovered in the backpack as well as a taser.
The male appeared to be unresponsive when transported by LA City Fire Resources, and has been hospitalized at Cedars-Sinai Medical Center according to authorities.
The cause of the crash, age, name, and condition of the motorcyclist are not being released pending investigation.
Andrew Loera photos, Key News Network