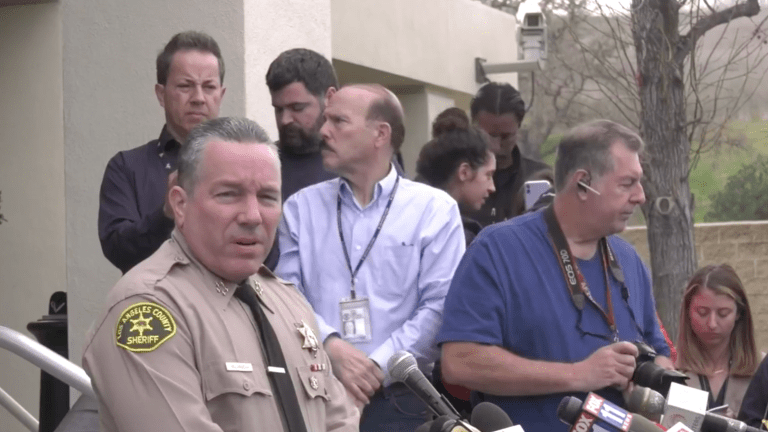 Helicopter Crash Kills Kobe Bryant, Daughter, Seven Other Passengers
Helicopter crashes into hillside in Calabasas, CA, killing all nine passengers on board.
Calabasas, CA: A helicopter crash into a hillside in Calabasas this foggy Sunday morning, took the life of legendary basketball star Kobe Bryant, 41, and his 13-year-old daughter, Gianna, along with the pilot and reportedly six other passengers.
The first call came in at 9:47 a.m. regarding the incident. The Los Angeles County Sheriff's Department Lost Hills Division assisted the Los Angeles County Fire Department at the crash scene. There were no survivors of the nine total individuals on board. The identities of the pilot and the six other individuals are pending upon notification of next of kin, according to Los Angeles County Sheriff Alex Villanueva during a press conference Sunday afternoon.
The coroner, along with the FAA, were on the scene assisting in the accident.
The cause of the accident is under investigation.
There is increased police presence in the immediate and surrounding areas of the crash site and community for the preservation of life and property, according to the Sheriff's Department's recent update on Twitter Sunday evening.
Many fans went to the Staples Center in Los Angeles on Sunday afternoon to pay tribute to Kobe Bryant.
LAX will be lighting the pylons at the entrance to the airport tonight in memory of Kobe, his daughter, and those who perished in this tragic accident.
During the 8 p.m. news conference from the LASD Lost Hills location, Sheriff Alex Villanueva reported updates of the incident. He said that the FAA had secured a five mile flight restriction for the area of the crash site and a five mile ceiling over it. NTSB is on route to the location to investigate. Sheriff Villanueva went on to thank the Los Angeles County Fire Department for putting out the fire (that resulted from the crash) and securing the area. He urged people who do not reside in the area to stay away from the location to keep roads free for access to investigators and first responders. Residents with ID will be granted access to the area.
Road closures are in effect at Las Virgenes Road and Agoura Road. On the 101 freeway, the north and southbound exits at Las Virgenes Road are closed until further notice.
Dr. Jonathan R. Lucas, Chief Medical Examiner-Coroner of Los Angeles County, also spoke at the news conference. He said it would take at least two days for the recovery. After recovery, the next priority is identification and then notification of the families.
NTSB is expected to have more information regarding the reason for the crash shortly, as stated in the news conference.
The spread of the debris is roughly the size of a football field - roughly 100 yards across each direction.
More information will be updated when available.
​
​
​