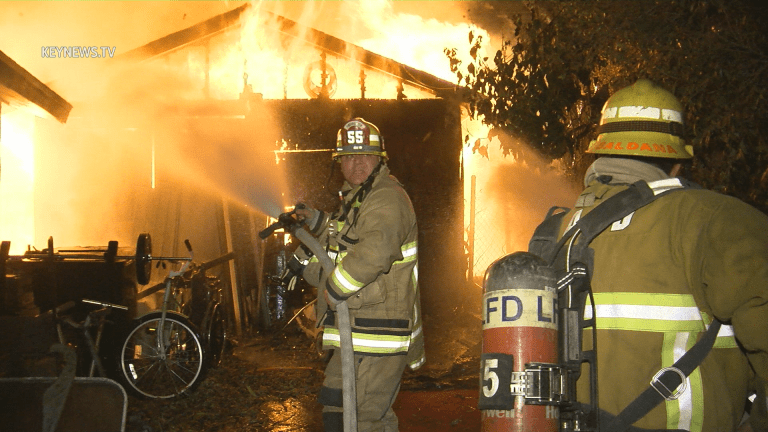 Highland Park Garage Fire Collapse *SOT
Fireworks are the possible cause for a fire which led to the collapse of a garage containing a family's belongings.
Highland Park: On Tuesday, December 15 at 2:23 a.m., a reported garage fire led to a complete collapse of the affected building on the 5200 block of East Almaden Drive. LAFD recourses responded to the address and found a fully involved garage behind a residence. The front home is currently being sold, but persons were staying in the back yard in tents at the time of the fire. Witnesses at the scene reported hearing a possible bottle rocket, then witnessed flames near the garage. They attempted to extinguish the flames, but were unable to do so. During the firefight, the roof of the back structure collapsed. No one was injured by the flames or structural collapse. Knockdown was achieved in approximately twenty minutes.
Battalion Chief Jaime Lesinski, who granted Key News an interview, stated the home just in front of the garage and the two homes on the left and right were also threatened and protected by the firefighters battling the blaze. Chief Lesinski urged public safety at this time of year now that cold weather is upon us. He stressed the use of proper heaters, and most importantly smoke detectors, especially now with Christmas trees in homes. Watch Chief Lesinski's interview in the video.